Star Student
First B ever leads to Truman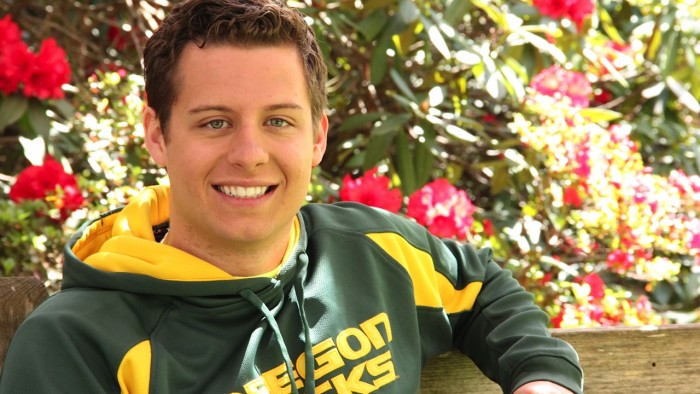 A shining example of political science professor Dan Tichenor's impact on his students: Andrew Lubash.
Last year, Lubash (pictured), a major in both economics and political science, became the first UO student since 1992 to win the highly competitive Harry S. Truman Scholarship, which includes $30,000 to attend graduate school and launch a career in public service. Lubash, a Beaverton, Oregon, native, credited Tichenor and the Wayne Morse Scholars Program—a select program founded by Tichenor for talented, service-oriented students—for giving him the tools in research, writing and debate necessary to win the Truman. (Please see the full feature on Tichenor.)
It was a storybook ending to a student-professor relationship that got off on an entirely different foot—Tichenor gave Lubash his first B. In anything. Ever. (It was Tichenor's presidency class, Lubash said, noting that he absolutely deserved the grade, but there were extenuating circumstances, it was freshman year and this was an upper-level course…)
Lubash came to the UO with a passion for political science and a sense that he'd never felt challenged in school. That changed when he entered the Morse Scholars program, he said. Week after week, he and his cohort had spirited debates on the controversial issues of the day: drones and the National Security Agency, immigration reform, gun control.
He learned quickly that Tichenor wouldn't allow you simply to defend the position you hold personally—you had to be equally adept at the other side of the argument. Lubash, whose politics lean left, recalled with relish his turn as Ted Cruz, the right-wing senator from Texas, during a simulation in which he and his fellow students attempted to "approve" legislation for immigration reform.
"We failed badly but it was really fun," Lubash said, grinning. "The only way to learn about comprehensive immigration reform in Congress is to do something like this. Would you rather be an integral part of the education itself, or have someone just lecture to you?"
Notwithstanding Tichenor's track record as a prominent researcher who has testified before Congress, Lubash seemed most impressed by the professor's commitment to students. It can be hard to find a good letter of recommendation, Lubash said, but it's something that Tichenor does readily for dozens of students.
As Lubash matured as a student, he found in Tichenor a steady guide, someone who pushed each student to dive into advocacy efforts, connected them to internships and contacts in Washington, D.C., and spelled out which scholarships to pursue—a huge service in and of itself, Lubash said. Tichenor is also supervising Lubash's honors thesis in political science for the Robert D. Clark Honors College, which focuses on changing university governance structures (with emphasis on the UO's new independent board).
Lubash became a frequent visitor to Tichenor's office to talk strategy as he charted his own future. He'll use the Truman funds toward his costs to attend law school, but Lubash, who might work for a year or two first, was unsure which occupations would best bolster an application to an elite institution: A government post? Something with a nonprofit?
Tichenor put all those questions to rest—the schools will see that you're a change-maker, he told Lubash, and the job will not be significant in their decision.
"He's really been a mentor to me," Lubash said. "It's changed my life dramatically."
―Matt Cooper
Photo: Tim Christie