Endnotes
Bard's work, deer mapping, fantastic four, lifetime achievement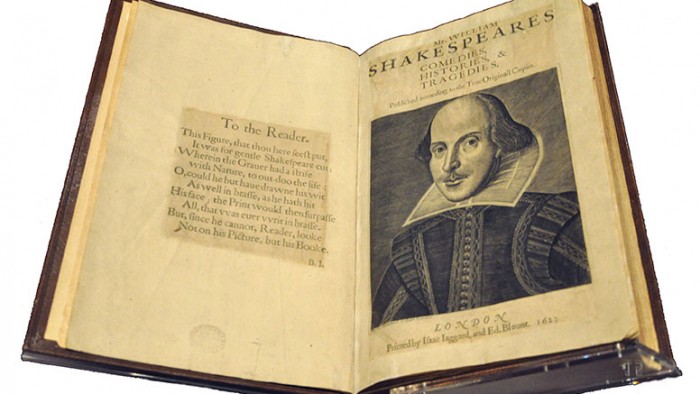 Bard's Work Is Oregon Bound
Thanks to Lara Bovilsky, associate professor of English, William Shakespeare is coming to campus.
His original work, that is. To mark next year's 400th anniversary of the death of the renowned poet and playwright, the book that contains the first collected edition of Shakespeare's plays is being shepherded on a cross-country tour that will include one stop in Oregon—at the UO.
This is the First Folio, published in 1623, seven years after his death. It includes 18 plays—among them, Macbeth, Julius Caesar, Twelfth Night, The Tempest, Antony and Cleopatra, The Comedy of Errors and As You Like It—that, without their collection in this folio, might have otherwise been lost.
Competing to host what has been called "one of the world's most treasured books," the UO's winning proposal was a collaborative effort among the English department faculty, the Jordan Schnitzer Museum of Art, the Oregon Shakespeare Festival and UO Libraries Special Collections and University Archives.
Between January 5 and February 7, 2016, faculty members will give gallery talks and the UO will make available its own copies of Shakespeare's Second and Fourth Folios. An opening gala will feature an original performance by the Oregon Shakespeare Festival, in collaboration with English department faculty. Also, field trips to campus for Oregon middle and high school students will cover Shakespeare and the power of creative expression.
Lifetime Achievement
To 11 books of poetry, three short-story collections and a prize-winning memoir, Ralph Salisbury can add one more achievement: a prestigious award that recognizes a renowned career in Oregon letters.
The professor emeritus in the English department recently received the C.E.S. Wood Retrospective Award from the Literary Arts organization in Portland.
Salisbury's work spans a wide variety of subjects, influenced by his personal experience as a Cherokee-Shawnee-English-Irish-American man. A veteran of World War II and a child of the Great Depression, Salisbury has also written about the effects of a constant state of warfare and poverty. His memoir is titled So Far, So Good.

"Though I have lived and worked among the intelligentsia of many nations, my writing comes from having lived as a questing, mixed-race, working-class individual in a violent world," Salisbury says on his website.
Fantastic Four
The Department of Chemistry and Biochemistry has just scored serious bragging rights, with four assistant professors receiving national accolades, and funding for their research.
Three of them—Shannon Boettcher, Michael Harms and Michael Pluth—were among 126 United States and Canadian researchers from 57 institutions to win 2015 Sloan Research Fellowships from the Alfred P. Sloan Foundation. The fellowships, which provide $50,000 over two years, honor early-career scientists whose achievements identify them as rising stars.
Boettcher studies the chemistry and physics of energy conversion and storage. Harms explores the relationship between the biophysical properties of proteins and their evolution. Pluth is pursuing the use of chemistry to understand the biological roles of hydrogen sulfide, important to the treatment of diabetes, hypertension and inflammation.
Pluth and George Nazin, another assistant professor in the department, won National Science Foundation career grants that recognize top-performing young scientists. Each will receive approximately $650,000 over five years.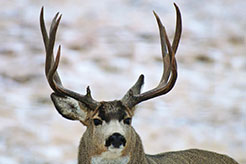 Deer Mapping
The InfoGraphics Lab is now mapping mule deer. And elk. And other migratory ungulates.
The laboratory (part of the geography department) joined universities and wildlife agencies to document a heretofore unknown 150-mile migration of Wyoming's mule deer (left). The project is overseen by UO alum Matthew Kauffman, BS '92 (biology), of the Wyoming Cooperative Fish and Wildlife Research Unit.
Kauffman turned to the InfoGraphics Lab for help—because of his UO connections, and because the lab is "one of the leading cartography groups nationwide." The lab created a stunning map of the routes covered by the deer on their epic journey (a New York Times feature on the migration credits the InfoGraphics Lab for a map in its story.)
Now the laboratory and Kauffman are on to a multiyear effort to create an atlas of ungulate migrations across the Wyoming area.