Social Sciences
In Memoriam: A Treasured Storyteller
University mourns loss of Native American scholar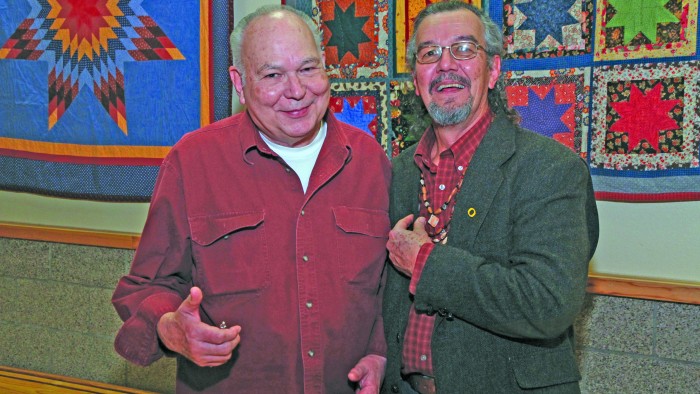 George Bundy Wasson was, above all else, a storyteller.
The Coquille Indian tribal elder had a gift for weaving vivid imagery into his histories of western Oregon tribes, captivating audiences with accounts at once both enlightening and entertaining. The talent served Wasson well over his half-century relationship with the university as a student, faculty member and administrator.
Wasson, seventy-nine, died at his home in Eugene earlier this year, the result of what police suspect was an attack by an acquaintance who then set fire to Wasson's house. The assailant died hours later in a gunfight with police in northern California.
Wasson first enrolled at the UO in 1953 as an undergraduate, studying music. But he struggled, taking a break before returning in 1968 to complete his degree. He earned two master's degrees here in 1971 and 1994, and a PhD in anthropology in 2001; he served as assistant dean of students until his retirement in 1989 and as an adjunct in history and anthropology, through 2011. Wasson helped found the Native American Student Union at the UO in the late 1960s.
"Even now I have a number of students tell me my advice or guidance changed their lives," Wasson said in a 1996 interview. "A lot of students have become some of my best friends. I have gone through their marriages, births and deaths. That is special and rewarding."
Wasson developed the Southwest Oregon Research Program, which features documents about Oregon Indian culture, stored at Knight Library. In teaching his anthropology class, he sought to fill gaps in Coquille and southwest Oregon history and to dispel myths about Oregon's native peoples.
"He was known and regarded as an inveterate, wonderful storyteller in native oral traditions," said David Hubin, senior assistant to the president.
Lake Oswego resident Brian McCarl, whom Wasson helped as a university counselor in the 1970s, recalled the tribal elder's gift for narrative in a tribute in the local newspaper:
"Like all good storytellers, George Wasson had the magical ability to transform himself. Sometimes he changed into a bird. On other occasions he became a plant, a place or a special person. It's a nice trick for a teacher and he generously shared with anyone willing to listen how and why the way things are. In addition to earning a PhD as a scholar in anthropology, and a couple of master's degrees later in life, George worked as a counselor at the UO for many years. He helped hundreds of undergraduate students get oriented in time and space. He did his job with gentle humor and care. He revered the water, stone, tree, mountain and natural wonder of southwest Oregon—Coquille, Hawkes Rest, the Siskiyou Range—all members of his immediate family. He opened the window for many on the unseen world of spirit, where distinctions are blurred between people and animals, the cycles of the earth and the migration of ideas. He shared ancient instructions for living peacefully with the processes of this world and the next. Although George Wasson no longer speaks as loudly when he teaches us how the Three Great Mountains came into existence or of the many great deeds of Tallapus (coyote) or Yelth (the raven) or Iguanat (the salmon), the seabirds' cry of Iquonequone carries over the water of Pistol River, revealing that George Wasson has gone into the fire and the light and that his story continues."
— Matt Cooper
Caption: Wasson (left) with Don Ivy, who visited campus recently for the Traditional Scholars Program. Photo by Jack Liu.