Natural Sciences
Speeding Knee Surgery Recovery
Amino acid supplements reduced post-surgical muscle atrophy and weakness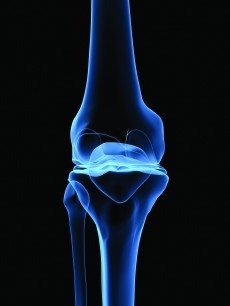 By 2030, it's estimated that nearly 3.5 million Americans will need total knee surgery each year.
Many of these patients will be 60 or older, and for them the road to recovery will be especially rocky. Postsurgery muscle loss will hinder their ability to walk, climb stairs or even rise from a chair.
But for them, and for anyone who faces a total knee arthroplasty, Hans Dreyer is zeroing in on a remedy that appears to speed recovery and is as easy to follow as eating a bowl of pudding.
A research team headed by Dreyer, an assistant professor in human physiology, found that taking essential amino acids slows atrophy in the quadriceps, a group of four muscles on the front of the thigh. The finding appears in the Journal of Clinical Investigation.
Essential amino acids are not produced by the body and must come from ingested protein such as soy, eggs or meat. During the week before surgery and two weeks after, subjects who took eight teaspoons a day—a white powder mixed in cereal, pudding or a drink—had one-third the muscle atrophy of a control group and, unlike the control group, recovered the ability to rise from a chair, walk ten feet, turn around and sit back down six weeks after surgery.
"I was surprised by the findings," Dreyer said. "It really does help patients. Ultimately this is perhaps a way to reduce health-care costs and improve quality of life."
Research shows that patients who suffer muscle atrophy and weakness following total knee replacements have higher use of health-care services, including additional hospitalization.
The findings are part of an ongoing collaboration among Dreyer and members of two Eugene-based organizations, the Slocum Research and Education Foundation and the Oregon Research Institute (ORI). Physicians involved in the research include Brian Jewett, Brick Lantz and Steven Shah, all fellowship-trained surgeons at Slocum Center for Orthopedics and Sports Medicine.
"Our goal as surgeons is to facilitate rapid functional recovery following knee replacement surgery," Shah said. "Essential amino acid supplementation may be a nice complement to our current rehabilitation programs. But we need more research participants so we can better understand if supplementation prevents muscle loss in the long term."
Erin Owen, director of the Slocum foundation, is optimistic about the ongoing partnership with the UO and ORI.
"The foundation is focused on identifying opportunities for delivering value to patients without adding significant costs," Owen said. "Integrating effective, relatively simple and inexpensive interventions into routine clinical practice has implications for patients locally and beyond."
Keith Smolkowski, an ORI research scientist who coauthored the paper, said he felt personally motivated by the project, noting that his mother underwent total knee surgery just after the team wrote its first draft.
"It is exciting to be involved in this kind of translational, 'bench-to-bedside' research, with collaborations across scientists, clinicians, disciplines and areas of expertise," Smolkowski said. "It is not often that our research has direct implications for the people in our lives."
The research was funded by the National Institutes of Health. Dreyer next plans to determine how essential amino acids improve muscle retention and whether the benefits are maintained over the long term.
— Matt Cooper