Natural Sciences
Building a Better Condom
UO chemist receives $100,000 Bill & Melinda Gates Foundation grant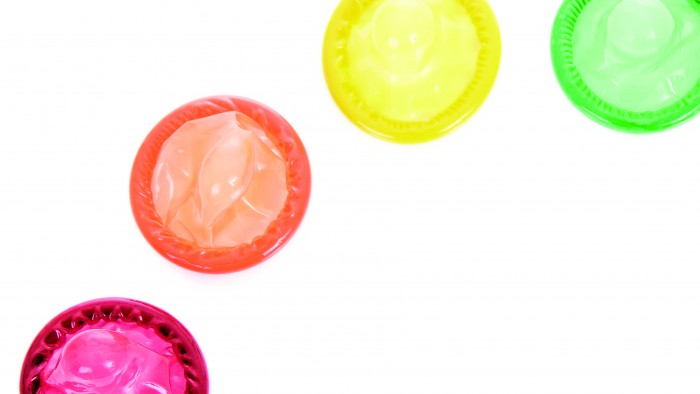 It can be hard to pique curiosity when your research is fuel cell membranes. But when you tell someone you're building a better condom . . .
"People start talking about it," said Casey Check, a postdoctoral research associate in chemistry and biochemistry. "It's something that's really helping people in some of the poorest areas of the world."
While Check found his previous work in fuel cell membranes fulfilling and important, his participation in Richard Chartoff's condom project is likely to continue to draw a lion's share of the attention.
Chartoff, a research professor, is one of more than eighty recent winners who each received a $100,000 grant from the Seattle-based Bill & Melinda Gates Foundation, eleven of them for projects related to condoms. The Microsoft founder's philanthropic arm is funding research to enhance condom sensitivity and increase their strength, reliability and use as a means to protect both partners. Only about 750 million people worldwide consistently use condoms to prevent pregnancy and sexually transmitted diseases, a figure Gates aims to double.
As the polymer laboratory director for the Center for Advanced Materials Characterization in Oregon (CAMCOR), UO's advanced materials characterization center, Chartoff is an expert in polymer research, manufacturing and how to convert good science into marketable products. His winning proposal: Develop a new polyurethane material that changes shape when activated by heat; the next-generation prophylactic would be less than half the thickness of the best current condoms and would accommodate nanoparticles containing drugs that combat STDs.
"The idea we've put forward is you can develop a product that fits everyone," Chartoff said. "The problem with condoms is they don't fit quite right or they break. They've got many shortcomings."
Chartoff and his research team will collaborate on the project with Béla Pukánszky, a prominent Hungarian scientist at Budapest University of Technology and Economics, who specializes in polymers and biomedical applications of polyurethanes. A colleague of Pukánszky's from Hungary, Belazs Imre, also recently joined the project team at the UO.
Working with various molecular combinations, the team will create polymers from "chemical cocktails" designed to meet expectations for elasticity and strength. Under one possible approach, a test solution could be heated and a form dipped into it; the solution then hardens around the form into a polyurethane, giving it the appropriate shape.
If the team is successful, they'll have a chance at a second grant of as much as $1 million to determine how to mass-produce the item and bring it to market.
Although Chartoff's synthetic materials have historically been used for industrial, military and aircraft needs, he said the condom project is similar in how it motivates him.
"I get a lot of enjoyment out of creating something interesting that helps people," Chartoff said. "It's like composing music or any other creative thing—you play it for people and if they appreciate it, that's very satisfying."
— Matt Cooper