Humanities
Travels to Russia—and Thereabouts
Russian-language students share their adventures abroad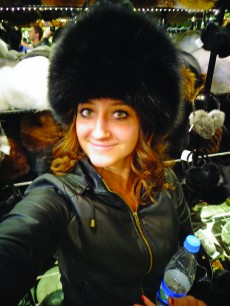 "Without a little piece of paper, you are an insect. With a little piece of paper, you are a human being."    — Russian saying
This maxim captures a well-known fact of life in Russia—you must have your documents with you at all times. This was illustrated in a recent presentation by UO students sharing their tales of travel experiences in Russia and the former Soviet states.
At the UO, there are about thirty students majoring or minoring in Russian at any given time; each year several of them travel abroad for an immersive cultural experience.
Graduate student Eric Spreat, for instance, went to Moscow last year to teach English. He shared photos of his travels, including a trip he took to Kazan, where the metro police stopped him and asked for his documents. His papers were in order, but they questioned him because they saw that he was registered to visit Moscow, not Kazan—what was he doing there?
Fortunately, he was able to produce his train ticket, which showed he would be returning to Moscow. After detaining him, the police released him. The moral of the story? "You can be stopped at any time," Spreat said.
In general, there's a curiosity about visitors—not just by police, but by shopkeepers, people you meet at parties, in cafes, on the street, said Lindsay Stamsos, who recently studied abroad in Kiev. "People ask you, 'Why are you here?' It's not often that people want to go there."
Stamsos, who is studying Russian in preparation for a master's program, returned from Ukraine just weeks before the current political upheaval began.
Another cultural insight: smiling is something Americans do a lot of, but Russians not so much.
Undergraduate Liz Prishchenko discovered this as part of a bigger lesson in what it means to grow up in an American home where Russian is spoken—and then actually visit Russia. "I'm a heritage speaker, so I don't know what the grammar is," she said.
Prishchenko was one of several students in the presentation who comes from a "heritage" household—i.e., a Russian-speaking American household.
As many as 10 percent of UO students studying Russian come from a family where Russian is spoken in the home, said Jenifer Presto, director of the Russian, East European and Eurasian Studies program—reflecting the fact that there are almost 100,000 people from the former Soviet Union who now reside in Oregon.
Prishchenko elaborated on a blog she kept during her study-abroad experience in St. Petersburg: "One thing that throws everyone off is that . . . I look Russian, I talk like a Russian, but I don't exactly use the right grammar," she wrote in her first blog entry. "And I smile too much."
—Lisa Raleigh
Caption: Liz Prishchenko takes a selfie while trying on a ushanka in a St. Petersburg marketplace.