Upward Trajectory
Former CAS dean promoted to provost and leaves a robust legacy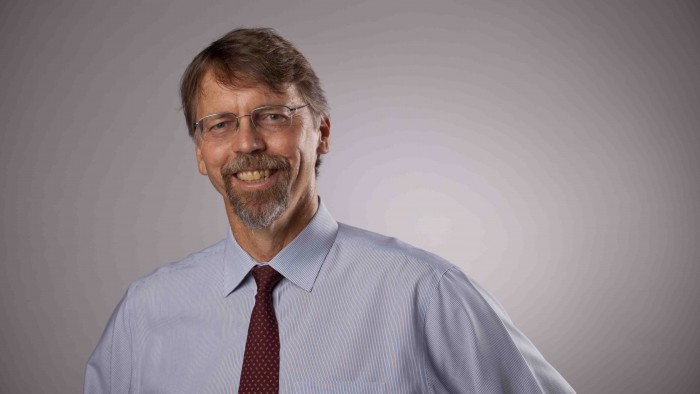 In the winter edition of Cascade, I highlighted the major changes at UO this year: a new, independent board of trustees; the implementation of a collective bargaining agreement with our faculty union; the shifting landscape of higher-education funding in America; and rapid shifts in student demographics. As of February there is another major change—the appointment of Scott Coltrane to the position of Senior Vice President and Provost of the university.
Scott Coltrane previously served the university for five years as dean of the College of Arts and Sciences, a period of major transformation in the college. During his tenure as dean, he oversaw an impressive suite of far-reaching changes with unflagging humor, care to individuals' needs and an absolute commitment to the liberal arts as the core of our research and education mission.
When Dean Coltrane arrived in early summer of 2008, he joined a university that had launched a major initiative to increase its student body. From fall 2007 to fall 2011, our student population grew from 20,400 to 24,500, a 20 percent jump in just four years. The large majority of this growth occurred in the College of Arts and Sciences.
Overseeing this rapid growth required immense dedication and work on the part of our faculty and staff—and tremendous leadership from our dean. The transformation demanded resourceful use of space, reallocation of budgets, growth in faculty numbers to parallel student growth, creation of academic units and majors to meet evolving interests of our new student body and development of a senior leadership team to manage these changes.
But student growth was not the only driver of change during this period. The Great Recession, associated declines in state funding for the UO (only about 5 percent of our total budget now comes from the State), subsequent tuition increases, decreased federal research funding, an increasing need for donor support, greater demand for university accountability . . . all these factors and more mandated new ways of thinking about the future management of our college.
In anticipation of these needs, Dean Coltrane reenvisioned college communications (Cascade is just one example among many); launched planning for development efforts centered on student access, success and research support; and invited all members of the college to participate in planning for its future.
Because of his dedication and hard work, the College of Arts and Sciences is now larger and stronger than ever before—and well poised to tackle the next set of challenges in these changing times.
One indicator of our forward momentum is the number of recent accolades bestowed on CAS faculty. In just the past couple of weeks, neuroscientist Helen Neville was named to the National Academy of Sciences (as a "foreign associate" because she is Canadian); biologist Joe Thornton received a Guggenheim fellowship; and psychologist Mary Rothbart and biologist Chris Doe were both elected to the American Academy of Arts and Sciences. One of our students, too, has received a prestigious national award: UO junior Andrew Lubash is the eighth student in UO history to be named a Truman Scholar. 
It is easy to see why the university chose Scott Coltrane to be our provost, our chief academic officer. As you page through this issue of Cascade, please contemplate all the scholarship, work and effort behind each story—and the fact that a great deal of that work was enabled by his leadership of our college over the past five years, a time of tremendous transition.
It's our privilege to build on the solid foundation that he has created for the future trajectory of our liberal arts and sciences mission. As Provost Coltrane steps into his new role, I hope you will take a moment to thank him for all he has done during his tenure as dean for the College of Arts and Sciences and for all the liberal arts at Oregon.
W. Andrew Marcus is interim Donald and Willie Tykeson Dean of Arts and Sciences. He is a professor of geography and proud parent of two UO graduates and a current UO student.
Photo: Kelly James