What do literature and architecture have in common? April Anson's "tiny house."
Anson (left), a graduate student in the Department of English, has built—and lives in—a house about the size of a shed. It's 114 square feet, sitting comfortably on a sixteen-foot trailer for easy portability.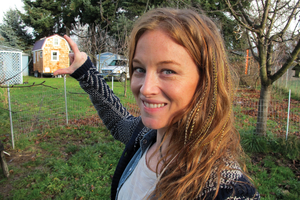 Anson studies postcolonial, ecocritical theory—essentially, the domination of people and land and how that is represented in literature. She was inspired by the small house movement, which advocates simple living, and saw the project as a perfect opportunity to combine her studies with her commitment to the environment.
"I had been long stressed by the amount of stuff that I own," Anson said. "I've become acquainted with what I need and don't need."
-story and photo, Matt Cooper