"If you only focus on things that come easily, you won't learn how to learn," said Harvey Mudd President Maria Klawe in a recent UO talk.
At Harvey Mudd College in Claremont, California, 40 percent of students enrolled in computer science are female. At the UO, the percentage is around 12. And that lower percentage is pretty typical of most institutions of higher learning. What's Harvey Mudd doing right?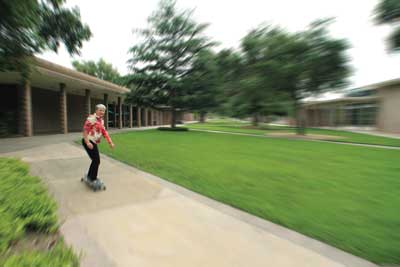 When Maria Klawe, Harvey Mudd's first female president, arrived in 2006, women represented only 10 percent of computer science majors. She credits the surge since then, in part, to a shift in the focus of introductory computer science courses—from abstract theory to real-world problem solving, such as modeling the spread of disease.
Right: Maria Klawe is learning to ride long board. Photo courtesy Harvey Mudd College.
"Our introductory course went from drudgery to outrageous fun," she said during a UO talk last fall.
Klawe visited the UO campus in support of Women in Computer Science (WICS), an initiative led by computer science graduate student Kiki Prottsman, which promotes female interest in computer science and strives to create a strong network for women in computing.
Besides her public talk, "Maria took the time to explore with us how the Department of Computer and Information Science can be more welcoming to women," said Prottsman, who also directs the female-focused online project Picture Me in Computing.
About 70 students, faculty and staff members, and community residents attended Klawe's lecture. She outlined a number of persistent gender-related computing myths—for instance, that computers are strictly boys' toys and that women aren't good at math—and proposed a threefold solution to the computer science gender inequality problem:
• Increase women's interest through games and contests and by encouraging female students to attend the annual Grace Hopper Celebration of Women in Computing Conference, where 200 female computer scientists (i.e., living role models) convene each year.
• Increase women's confidence through unfailing encouragement and positive feedback. Women in computer science and engineering often experience what Klawe called imposter syndrome—a debilitating lack of confidence in their abilities. She said that even when women are doing as well as or better than men in computer science classes, the women are much more likely to lose confidence and drop out.
• Increase women's sense of belonging by creating a supportive environment and using inclusive language. Klawe said that ways to foster such an environment include being careful with gendered pronouns and "suppressing jerky behavior" among male students.
Showing students that they are capable of learning how to be strong in an area of weakness can also bolster female self-confidence, she said. Klawe herself is working on an area of weakness: learning to ride long board despite the fact that coordination and balance are not her strong suits.
"If you only focus on things that come easily, you won't learn how to learn," she said.
Prior to joining Harvey Mudd, Klawe was the dean of engineering and a computer science professor at Princeton University. She is also one of 10 board members of Microsoft Corporation.
— Eric Tucker