Social Sciences
Partnering with Planned Parenthood
Student's research provides baseline for study of Latinx health-care access
It was serendipity. In 2016, Kelsey Nava-Costales was exploring ideas for a senior thesis on the Latinx community just as Planned Parenthood of Southwestern Oregon began studying ways to better understand the needs and struggles of this fast-growing population.
Now Nava-Costales (right) and PPSO are working together. Thanks to the investigations that Nava-Costales has done for her thesis project, she has created a baseline of research that is helping PPSO advance its own study of health-care access for Oregon's Latinx community. ("Latinx" is the gender-neutral term for Latinos and Latinas.)
PPSO officials originally reached out to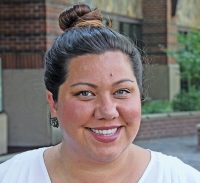 Nava-Costales to help with their initiative because they knew the ethnic studies major, a Chicana, as a dedicated PPSO volunteer who canvassed neighborhoods and worked with Spanish-speaking youth at outreach events. They were surprised to learn that she was considering thesis topics such as Latinx sexuality, which dovetailed perfectly with PPSO's desire to improve its understanding of the needs of this demographic.
"It was meant to be," said Mary Gossart, PPSO vice president of education. "We were greatly impressed with the alignment of her thesis ideas with the work we are trying to do, so we agreed to an internship."
To serve both PPSO's initiative and her academic requirements to probe an important topic, Nava-Costales assessed two Latinx health programs in other communities—California Latinas for Reproductive Justice and the Colorado Organization for Latina Opportunity and Reproductive Rights, or COLOR.
Before analyzing these programs to determine if and how PPSO might want to emulate them, Nava-Costales developed criteria that she felt to be essential for effective Latinx programs in sex education and reproductive health care. They included a positive message about consensual sexual activity and "cultural competence," i.e., an agency's ability to meet a client's social, cultural and linguistic needs.
Through an exhaustive review of programming followed by telephone interviews, Nava-Costales assessed the two groups against her criteria.
Finding nothing in COLOR's materials specifically referring to transgenders in the Latinx community, for example, she called to inquire about this omission. "They clarified that they are open to all sexual orientations," she said. "However, it is one thing to be open. It is another to create curriculum that is specifically meeting the needs of the LGBTQ community."
This research became the basis for her final written thesis, and from this Nava-Costales also compiled preliminary takeaways for PPSO to consider as it explores ways to support the Latinx community, with a full report forthcoming in October.
Among her observations, she credited COLOR for attention to the little things that build connections—the group includes traditional foods such as café y pan dulce (coffee and sweet bread) at outreach events. But COLOR and California Latinas have work to do, she said, in ensuring that programming is formally described with wording that is inclusive of all sexual orientations and gender identities.
Language competency is another essential.
"It's hard to reach out to a community and offer support if no one speaks their language or can share translated materials," Nava-Costales said. "It's important to have diverse hires and to offer services in the most prominent languages from that community."
—Matt Cooper