Pure CURE
The Center for Undergraduate Research and Engagement (CURE) will expand the range of research experiences for students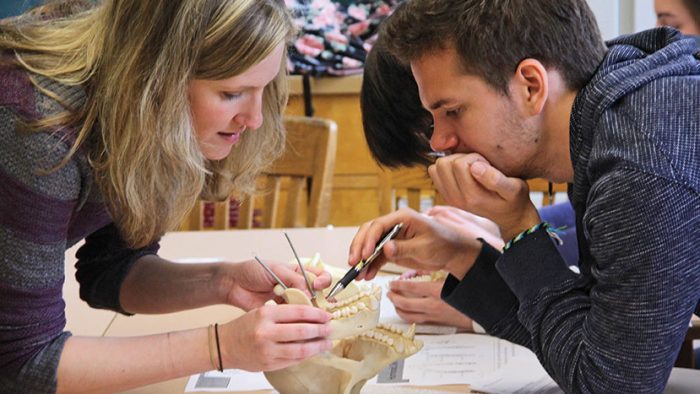 Undergraduate research at the University of Oregon is expanding this fall with the launch of the Center for Undergraduate Research and Engagement, or CURE.
Director Josh Snodgrass, associate vice provost for undergraduate research and engagement, hopes to inject into the University's DNA a broader commitment to undergraduate research on campus, and he's working on multiple fronts to do so.
"I want to try to build everything around the culture of us being a research university, around how to get students engaged," he said.
For Snodgrass, much of the work is about playing off faculty-mentored research opportunities in the humanities, social sciences and natural sciences.
Snodgrass is finding ways to promote the inclusion of research into curriculums throughout the university. He's making a pitch at faculty meetings around campus with different ways to incorporate undergraduates into research—with projects that don't require a sometimes-daunting yearlong commitment.
"I've been pushing people to think creatively about how to design these research opportunities," he said.
CURE will host a "research week" in November with daily workshops and events that Snodgrass is modeling on Homecoming week. The event is geared toward freshmen and students experienced with research. Snodgrass also wants the week to serve as the launching pad for the Undergraduate Research Symposium in the spring, an annual event that showcases the wide range of research conducted by Duck undergrads.
"We really do have research going on across the curriculum," said Snodgrass, an anthropology professor. "The Undergraduate Research Symposium is a perfect example. Last spring we had 60 majors and all eight colleges involved."
CURE will partner with the Undergraduate Research Opportunity Program, UO Libraries, the Clark Honors College and others. It will have a presence at IntroDUCKtion and Week of Welcome, where parents and incoming freshmen can hear the siren's call of research.
Snodgrass also plans to use Duck Connect—an online tool through the Career Center—to link undergraduate researchers with faculty looking for help.
The center is funding research fellowships, mini-grants and awards to undergraduates and faculty.
In the Allan Price Science Commons & Research Library, CURE will feature the work of 10 students enrolled in STEM programs. Undergraduate work can also be found in the Global Scholars Hall Learning Commons, which serves as a home base for CURE. The spot hosts space for study, classrooms, drop-in advising, workshops and events.
Says Snodgrass: "I really want to give people a sense of what the possibilities here are."
For more information, contact Snodgrass at jjosh@uoregon.edu.