Social Sciences
Justice, Interrupted
How politics compromised the pursuit of a suspected Nazi war criminal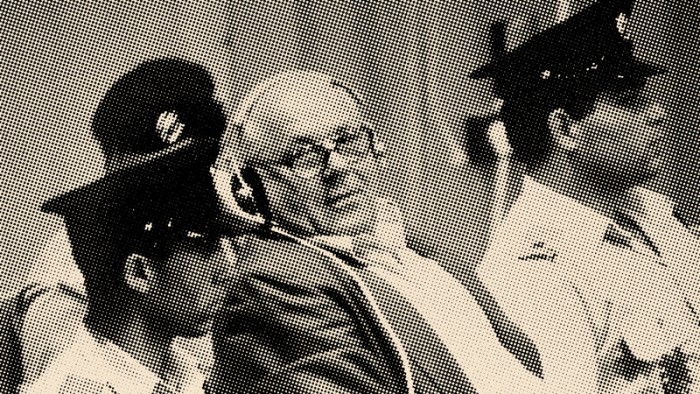 John Demjanjuk (above) was a Ukrainian autoworker living in the suburbs of Cleveland in 1977 when investigators showed up at his door.
A tip alerted them to the fact that he was actually Ivan Demjanjuk, a former guard at a Nazi concentration camp during World War II who had lied on an immigration form to take up a new life in the United States.
That was the beginning of an international judicial process for a man who became perhaps the most famous face of the Nazi war crimes trials.
It was a process that was not just long and convoluted, but deeply flawed, according to Claire Aubin, who received her degree earlier this year. Her investigation of the Demjanjuk case led her to conclude that it had been compromised by competing national interests, global politics and circumstances of the moment.
Aubin, a double major in international studies and Russian, East European and Eurasian studies, was looking for a topic for her senior thesis early this year when a trip to Washington, DC, proved fortuitous.
During a research seminar at the United States Holocaust Memorial Museum, she learned of major gaps in the coverage of the Demjanjuk case.
Demjanjuk was sentenced to death in a highly publicized trial in Jerusalem in 1988. But it was a case of mistaken identity—he was wrongly believed to be Ivan the Terrible, a notoriously cruel guard at the Treblinka concentration camp. The revelation came to light only after the Soviet Union released identification paperwork that vindicated Demjanjuk; the conviction was overturned and he was released.
Then in 2011, German courts found Demjanjuk guilty of being an accessory to more than 27,000 deaths at the Sobibór concentration camp. And that's where Aubin saw an opportunity.
While there was extensive analysis of Demjanjuk's trial in Israel, global interest waned once it was determined that he wasn't Ivan the Terrible. For her thesis, Aubin decided to examine international law, procedures and the pervasive role of politics throughout Demjanjuk's case.
She was clearly onto something. Just after she began her work, the first comprehensive book on Demjanjuk came out.
Aubin used dozens of records on Demjanjuk, from the start of the investigation in 1977 through his death while appealing his case in Germany. She used the case as an assessment of the effectiveness of the international judicial system in the prosecution of suspected Nazi war criminals.
Working in the Holocaust museum, Aubin collected everything she could relating to Demjanjuk—historical documents, publications, photographs and audio and video recordings.
Last spring, she expanded her research with a visit to the Mazal Holocaust Collection, the world's largest privately owned Holocaust archive, which was donated to the University of Colorado at Boulder in 2014.
It was thrilling—but challenging—to be one of the first researchers to see those records. "They hadn't even finished archiving them yet," Aubin said, "which made it much harder because they hadn't cataloged everything."
Aubin spent months sifting through piles of legal documents, courtroom transcripts, pamphlets and literature, including limited-edition and rare books.
Her conclusion: The political pressure on international trials intensifies when nations' reputations and legacies are at stake—and that can lead to mistakes in administering justice.
Review of the records revealed to Aubin a story of three countries with their own motives for pursuing Demjanjuk with an almost blind zeal.
In prosecuting a Nazi war criminal, Israeli officials saw the opportunity to provide a sense of reparation to Holocaust survivors and to validate Israel's power as a still-fledgling nation. In the US, the Department of Justice's newly created Office of Special Investigations saw the capture and prosecution of a man believed to be Ivan the Terrible as a triumph that would justify its existence.
And in Germany, the Demjanjuk trial was seen as a way to atone for sins and reassert the country's standing in the international legal system.
Aubin tracked instances where investigators lowered standards or ignored discrepancies in the evidence against Demjanjuk. Some so strongly wanted to convict the man that they thought was Ivan the Terrible that they ignored warning signs and claims by US agents that suggested it was a case of mistaken identity, she said.
In photographic lineups, Demjanjuk's picture was the largest, subconsciously suggesting to witnesses that he was the primary suspect, Aubin said.
She read witness statements that had been handwritten by interviewers—but based on the interviewers' memories, rather than a recording. Records indicated that prosecutors had given more weight to eyewitness testimony than physical evidence, although the former is less reliable.
In the end, Aubin was forced to rethink what had been an idealistic view of international law.
She set out to assess how three nations handled legal proceedings for an important figure from an international tragedy. She found that they were unable to keep politics and personal agendas out of the process.
"I still believe in the legal system," Aubin said. "But my perceptions of it are different now that I see how dependent it is upon politics."
—Jim Murez
Photo caption: Defendant John Demjanjuk, moments after hearing an Israeli court sentence him to death in 1988 for Nazi war crimes. Of her research into his trials, Claire Aubin said, "there's a level of sensitivity that you need to have. Some would say, 'This is a sad thing that we shouldn't talk about,' whereas others would say, 'No, we need to talk about it all the time. We need to shout it from the rooftops.'"
Photo credit: United States Holocaust Memorial Museum