Lab Tested
Psychology-biology double major uses research to find public health career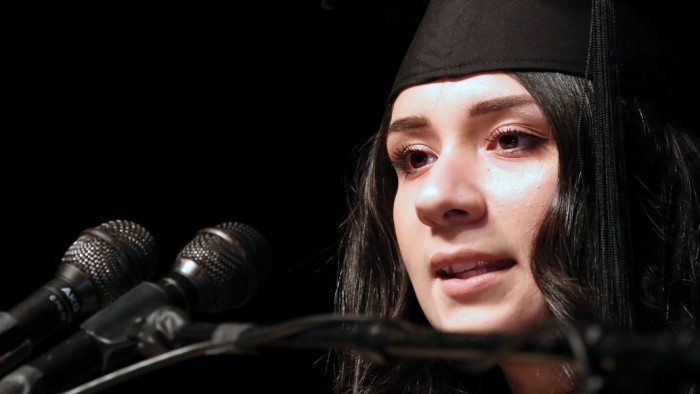 For this year's annual undergraduate research edition of Cascade, we invited senior Stefani Aleman—who is double-majoring in psychology and biology and minoring in chemistry—to write our guest editorial. We asked her, "How has research shaped your career aspirations?"
I've had some great experiences at the UO that have helped me set my sights on a career in public health. One of my biggest influences was a volunteer opportunity suggested to me by advisors in the biology department. Thanks to their suggestion, I have spent more than a year as a Spanish interpreter at a free clinic in Springfield since the summer of my junior year.
This eye-opening experience helped me start thinking how I might pursue a career of serving low-income individuals, especially undocumented people from Mexico and South America. My aim now is to get a master's degree in public health so that I can assess how well public-health programs are working for these communities.
A different UO experience has given me a huge measure of confidence that I will succeed in this endeavor: I've spent the last year as a research assistant in a psychology lab, where I've been fortunate to actively participate in many inspiring problem-solving sessions.
Each week, researchers from many of the UO psychology labs come together to discuss their projects—professors, PhDs, graduate students and even undergraduates. Everyone gives really constructive feedback; it's all based on the scientific method—what kinds of questions might be getting missed, what kinds of biases might there be in someone's experiments, different ways to analyze the data. It's amazing to see everyone come together and work toward trying to make not only their own study better but science as a whole.
I have realized that is great preparation for my own career goals. I can use that same probing and assessing, that critical analysis, to answer the questions that I have about public-health programs.
As a research assistant in the Brain and Memory Lab, I test how memory works to guide our future decisions. I've run hundreds of subjects through computer exercises that explore two prominent theories of category learning. There are competing theories—exemplar and prototype theory—on how the brain categorizes information, and we run experiments that test these theories. I recruit people, I run them through the exercises, answer any questions they have and then debrief them.
The collaborative spirit of the psychology research labs has left a deep impression on me. It was exciting to be constantly learning from others—and I was encouraged to share my ideas, as well. I will definitely be looking for an employer who values this kind of teamwork as much as I do.
When I was volunteering at the clinic, I got to see firsthand the great disparity in our health-care system. But I also felt hope because I saw people in need receiving medical care at no cost.
I understand how important the cultivation of opportunity is, and I know something about benefitting from programs for low-income people in part because I wouldn't be at the UO without financial support.
My parents are immigrants from Mexico, and I'm the first in my family to graduate high school and will be the first to graduate college. Thanks to PathwayOregon, the Gates Millennium Scholarship and other funding, my education isn't restricted by my family's limited income.
I never would have guessed what role research would play in my time at the UO. But that's the benefit of this place: you can be so much more than just a student.
—Stefani Aleman
Photo caption: Stefani Aleman was selected as the student speaker at President Michael Schill's investiture, where she spoke about her experience as the child of Mexican immigrants and the first in her family to go to college. She has spent the last year as a research assistant in the psychology department, where the collaborative exchange of ideas is helping her envision a career in public health.
Photo credit: Jack Liu