Secrets of the Dead
More research opportunities on tap for UO undergrads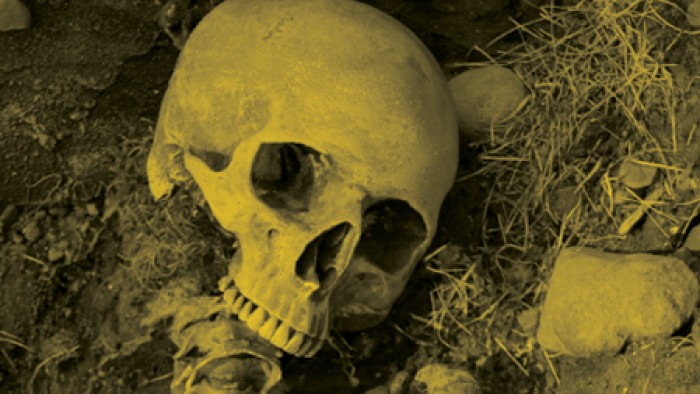 As an undergraduate at the University of California at Santa Cruz, Josh Snodgrass was a good student—but not truly engaged. Then an anthropology professor gave him an uncommon opportunity: Did he want to help identify skeletal remains for the local medical examiner?
It was a life-changing introduction to undergraduate research. In the morgue, Snodgrass put into practice what he'd been studying in class—forensic methods to determine, say, the rate at which a body is decomposing or the age of a skeleton.
This extraordinary opportunity triggered a surge of personal, emotional and intellectual growth. It motivated Snodgrass to commit to pursuing a career path as an anthropologist specializing in the study of human evolutionary biology and the application of anthropological techniques to societal issues.
Snodgrass' new job will also be profoundly influenced by this transformative experience: As the newly appointed associate vice provost for undergraduate studies, he will design undergraduate research programs that will be directly informed by his personal knowledge and values.
"Undergraduate research changed my life," Snodgrass said. "I want to give students the same richness of opportunity."
By the Numbers: Undergraduate Research at the UO
27% of UO seniors have done or are currently doing research with a faculty member
82% of UO students have done a research project or paper as part of their course work
an additional 13% of seniors plan to do research with a faculty member
46% have taken at least one student research course
Source: 2015 National Survey of Student Engagement
CAS Honors Programs
More than two dozen College of Arts and Sciences departments offer an honors program with an undergraduate research thesis requirement. In these departments, completion of the senior research project confers an honors distinction with the bachelor's degree:
Computer and Information Science
East Asian Languages and Literatures
Russian, East European and Eurasian Studies
Undergraduate Research Symposium
This annual event gives UO undergraduates a chance to present their own research work, much as they would at a professional research conference. Students across the full range of CAS disciplines—from geography to folklore to marine biology—share their research via posters or presentations.
The sixth annual Undergraduate Research Symposium was held in May and featured:
186 presentations
236 presenters and copresenters (179 presenters and 57 copresenters)
213 faculty mentors
29 corporate/institutional funders and sponsors
39 CAS majors represented
Top Five CAS majors at symposium:
Biology (38 presenters)
Environmental Science/Studies (30)
Human Physiology (26)
English (19)
Psychology (18)