Sea Star
Earthquake sensors, seafloor mapping and a flying squid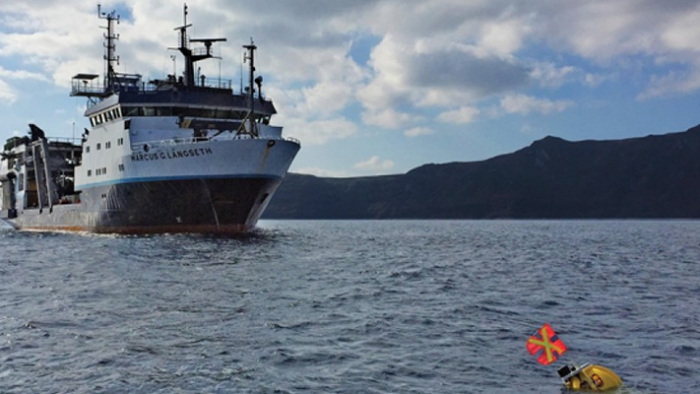 The research vessel Marcus G. Langseth circled on the Aegean Sea near Greece one day last December, offering stunning views of azure waters, golden sunsets and, in the distance, the majestic island of Santorini.
But Claire Getz scarcely had time to notice.
She was part of a research mission to learn more about the molten rock deep beneath volcanoes such as Santorini. On this day, she had a big job to complete in a small window of time. Working with crewmates, she assembled massive earthquake-sensor instruments that had to be hoisted and released overboard in specific locations at 20-minute intervals.
Miss a drop zone and the ship would be forced to circle back, delaying the project. Over roughly three days, the team deployed 90 of the ocean bottom sensors, missing none of the time windows.
For Getz, an undergraduate who joined five UO graduate students, it was an exhilarating—if stressful—experience.
"I didn't think they would let us near (the sensors)," she said. "But we got to be more involved in that than I thought we would."
Firing Beams of Sound
Getz, who graduated earlier this year with a degree in geological sciences (the department has since been renamed Earth Sciences), was part of a research team led by UO geologists Emilie Hooft and Doug Toomey. The team is studying the island of Santorini to learn more about the movement of magma beneath volcanoes.
The $3.5 million project, funded by the National Science Foundation, netted an unprecedented amount of data and a 3-D view of magma some 12 miles below ground.
There were two pieces to the project—the earthquake sensors and mapping the seafloor around the island—and Getz was integral to both.
Scientists use the sensors, which are called ocean bottom seismometers, to measure vibrations within the earth. That data gives them a profile of the mag.ma moving underneath. Working with these massive instruments, which can weigh hundreds of pounds, was physically demanding, Getz said.
But no less challenging, intellectually, was her responsibility on the mapping project.
A machine on the bow of the ship fired beams of sound at the bottom of the ocean, generating data for a high-tech mapping program.
Months before the trip, Getz logged countless hours in a computer lab, teaching herself how to write code to tell that program how to process the data that would be collected.
Once the trip was underway, Getz and others worked shifts at a computer, processing half-hour chunks of data to generate a 3-D map of the seafloor (see p. 8).
"You have to do it all the time," Getz said, "because the data is always coming in."
Earthquakes, Eruptions, Tsunamis
A spell of rough weather fouled up the process at one point, causing faulty readings. At other times, images of the seafloor appeared fuzzy at the edges. Working with the
computer program, Getz was able to remove or correct these errant data feeds.
Through the mapping, the team observed chains of underwater volcanoes near Santorini and saw landslide deposits from earlier eruptions. They also examined the fault that was responsible for a massive temblor in 1956, Greece's largest earthquake of the 20th century.
"It was really cool to see what the seafloor looked like," Getz said, "especially in a place like Santorini, which has a long history of building up large volcanoes and collapsing into a chamber. You get really high-resolution looks at the seafloor."
Scientists will use the information gleaned from the project to identify the locations of the passageways that magma uses to ooze through the Earth's crust below Santorini. They'll learn what factors control the movements of this molten rock, where it collects and what causes it to surge aboveground in an eruption.
With that knowledge, and close monitoring, hazard managers may be able to help predict geologic activity on Santorini, whether it is an eruption, earthquake or a resulting tsunami. Greek officials could apply that information toward disaster management planning for the island, which annually provides millions of dollars to the nation's economy.
The look deep below ground will also help reveal how most of the rocks that comprise the foundations of the Earth's continents are formed.
Be Sure to Tie It Down
The research team—which also included professors from Greece and the UK—gathered
for daily meetings to provide updates and talk about goals for the day. To incorporate
an academic element into the expedition, they discussed research papers about Santorini and projects similar to their trip.
But Getz didn't spend every moment in scientific briefings, lugging huge earthquake sensors or hunkering down over a computer screen.
She also was able to pause and enjoy astounding sunrises and sunsets, and even indulge in a leisure activity. Before they set sail, Getz and another researcher stocked up on knitting supplies and a book on how to knit. She taught herself the craft during slow times onboard, finishing one (very long) scarf.
The 235-foot-long ship had all the comforts of home, and then some: a gym, a stocked kitchen and cook, a big-screen TV and a library full of more movies and TV shows than the crew could possibly get through during their expedition.
Getz was told to bring "tie-down materials," and it didn't take long to understand why. Whenever rough water got the ship rocking, anything on a table or desk rolled off if not tied down or taped.
The crew was fortunate in that they never encountered severe weather. And the gentle rocking of the boat was ideal in helping Getz fall asleep.
As part of her shipboard duties, Getz took shifts on seaman's watches just like everyone else.
Incoming!
One time, an unexpected visitor joined them while they were retrieving a seismometer at 3:30 a.m.
It was cold and windy and generally unpleasant to be on the deck of the ship in the middle of the night.
But on this night, Getz caught a flash out of the corner of her eye. Something sailed through the A-frame on the ship—about 30 feet above the water—then landed with a thud.
After some poking around, they found a small squid that "caught mad air," as Getz put it, and was flopping on the deck. The crew snapped some obligatory photographic evidence, then returned the overly adventurous cephalopod back to its natural habitat.
For a young scientist, these unexpected interactions with the natural world were a refreshing reminder of the environment beyond her computer screen.
"Sometimes when you are on the boat, you forget you're on the actual ocean," Getz said. "It's all around you, but you're just sitting in the lab remotely studying the seafloor and the earth below."
—Jim Murez