But What She Really Wants To Do Is Teach
Researcher finds her calling in education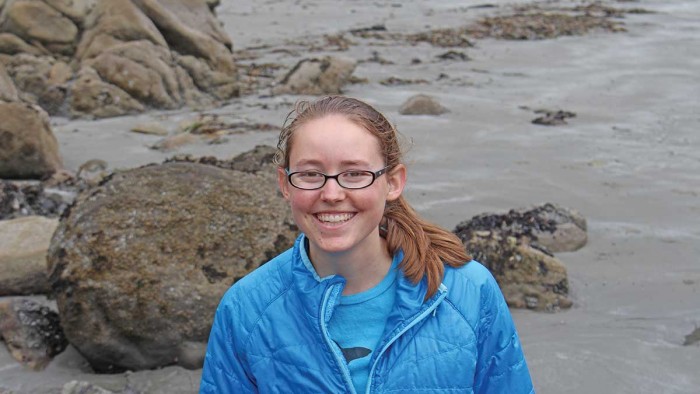 Growing up in the Bay Area, Christy Stumbo (above) was never far from the ocean, but it seemed she was never close enough, either.
Strange things live in those briny deeps, things that Stumbo wanted to learn more about. Sharks, for instance, but that only scratched the surface.
"I'd always watch every single documentary I could on the ocean," she said of her early fascination with the sea. "There's some really crazy things that live down there."
To get at them, Stumbo decided to come to the University of Oregon and its Oregon Institute of Marine Biology. It was one of the few places on the West Coast where she could pursue a marine biology degree, and it provided the kind of hands-on learning and chance to do the real research that Stumbo sought.
"You're in the field almost every day. You're in the lab every day," said Stumbo, who graduated earlier this year. "It's a chance to see what marine biology is really about."
It also was a chance to learn what research is all about and get up close and personal with some of those strange things deep in the ocean. When Stumbo arrived for her three terms at the OIMB campus in Charleston last year, she quickly connected with institute director Craig Young, whose research on deep-sea invertebrates would be like having a first-class ticket to that weird undersea world she'd been dreaming about.
Young put his new student to work examining tissue samples from an ascidian, a kind of deep-ocean sea squirt. Ascidians are small, water-siphoning animals that live on undersea rocks or, as in this case, ocean sediments. The samples had been obtained years earlier as part of an effort to learn how these strange invertebrates manage to reproduce at depths of almost 5,000 feet, something Young and at least five graduate students had been studying off and on.
But they needed someone to help finish the work. Stumbo took the job, spending hours in the lab laboriously preparing micro-thin slices of the tissue and carefully staining them so eggs and reproductive organs could be examined under powerful microscopes. It wasn't as glamorous as diving in a submarine to collect samples from the sea floor, but it was real science.
"It's pretty cool," Stumbo said. "I think it was different than I expected, but I didn't know what to expect."
Stumbo, who completed her part of the project this past summer, will be included as one of the authors of a scientific paper to be published soon. The project itself has taken 12 years to complete.
Stumbo said it's been a great learning experience. But she also learned something she wasn't expecting: Research isn't what she wants to do for a living.
What really floats her boat is teaching. Stumbo already has a job as a naturalist at an outdoor science school near Santa Cruz, not far from her hometown of Fremont in California; her marine biology background will be invaluable, she said.
While at the UO, Stumbo worked as a biology peer tutor and took part in the Environmental Leadership Program, where she taught environmental science to middle school students. But it wasn't until she tried her hand at research that she realized teaching is where her heart is.
"The more I thought about it, the more I realized I'd always been teaching," she said. "People were always coming to me for help. I just never thought of that as teaching."
—Story and photo by Greg Bolt
(Return to "Diving Deep")