A Natural for Neuroscience
Grant enables psychology-biology double major to study research in neuroscience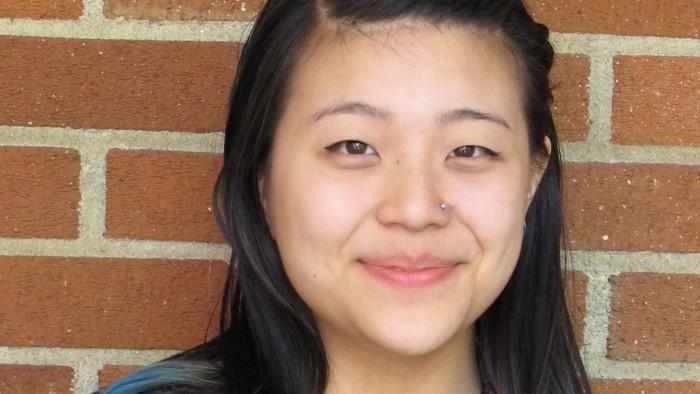 Research conducted as an intern in the University of Oregon's Summer Program for Undergraduate Research (SPUR) not only sealed an interest in science by Christine Liu, it also landed her an award from the Howard Hughes Medical Institute to support her efforts.
Liu (above), a UO junior from Lake Oswego, Ore., who is double majoring in biology and psychology, is the UO's first student to be named a scholar under HHMI's Exceptional Research Opportunities Program (EXROP). The program, established in 2003, is designed to support students from disadvantaged backgrounds and from groups traditionally underrepresented in the sciences.
Under EXROP, Liu will receive $4,500 to support her education, and next summer she will be paired with a HHMI scientist.
"I was very grateful and honored when I found out I got the internship," Liu said. "Working under an HHMI scientist full time during the summer will be a fantastic learning opportunity that broadens my understanding of neuroscience, furthers my critical thinking skills and paves a path toward my career goals of research and teaching."
Until she applied for SPUR, Liu had worked as a resident assistant to cover her college expenses, while also balancing coursework, social activities and recreation. SPUR freed her to focus completely on her project in the Institute of Neuroscience, where she continues to study neurons in the auditory cortex in the lab of Michael Wehr, assistant professor of psychology, and under the mentorship of postdoctoral researcher Aldis Weible.
Her research in SPUR produced an abstract related to sound processing in the brain — "Effects of Optogenetic Silencing of Parvalbumin-Expressing Interneurons on Prepulse Inhibition"—that was chosen among the best submitted to the Annual Biomedical Research Conference for Minority Students. That landed her a full travel award to attend and give an oral presentation at the conference in San Jose, Calif., last November.
"SPUR gave me a better glimpse of what it's like to be a professor and do research full time," Liu said. "I know 100 percent now that I want to attend graduate school. When I decided to come to the UO, I had no idea there was so much research going on."
UO biologist Judith Eisen, also a member of the Institute of Neuroscience and director of the HHMI-funded Science Literacy Program at the UO, and Elly Vandegrift, associate director, nominated Liu for EXROP based on Liu's success in SPUR.
As part of her experience as an EXROP scholar, Liu will travel to HHMI headquarters in Chevy Chase, Md., to attend meetings and discuss her research. She and other program scholars also will be given time to network with each other and connect with researchers with similar backgrounds.
—By Jim Barlow (this article originally appeared in Oregon Research)