Natural Sciences
A Universe of Possibilities
Two physics students take completely different paths in pursuing a passion for astronomy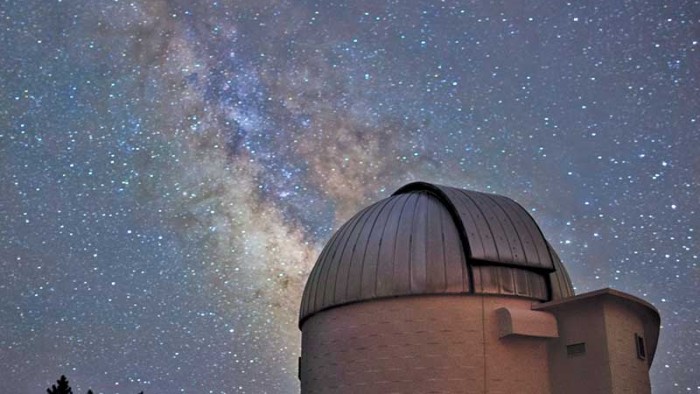 The UO's Pine Mountain Observatory (above) is getting a robotic telescope that can be controlled from the UO campus in Eugene, thanks to a physics undergraduate.

Astronomers really do have their heads in the stars and their feet on the ground.
For proof, look no further than two astronomy students in the UO physics department. One wants nothing more than to stay on the ground and run the telescopes that probe the heavens. The other is intent on gazing at the sky to unmask a galaxy's hidden secret.
Yet both have found what they're looking for in a program that gives students the opportunity to explore a universe of possibilities, whether they're found on Earth or beyond the atmosphere.

Setting Her Sights on the Stars

Sixteen million light years away, in the heart of a small but bright galaxy, lies a mystery. And a team of UO undergraduates is close to solving it.
Something near the center of M94, a galaxy found in the northern sky just below the Big Dipper, is blasting out X-rays. And for more than a year, team leader Annika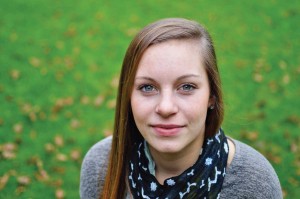 Gustafsson (below), a senior majoring in physics and mathematics, has been chipping away at data collected by a telescope in Hawaii. By the time she graduates this spring, she'll likely know what that something is.
A leading theory right now is that it's a supermassive black hole orbiting the even larger black hole that is known to exist at the center of the galaxy. If so, it would be the nearest example of a paired system of such star-eating behemoths ever observed.
Whatever it is, Gustafsson will end up as the coauthor of a research paper describing the object that will be published in a peer-reviewed astronomy journal, probably next year—not to mention also having what could be the only UO undergraduate honors thesis ever written from direct astronomical observations and launching herself toward her goal of a doctorate in astrophysics.
"It's really exciting," said the Santa Cruz, Calif., native.
A little more than a year ago Gustafsson connected with Scott Fisher, physics lecturer and physics undergraduate studies director. Gustafsson learned Fisher had access to a trove of raw data on the furtive X-ray source in M94, although even then she had no expectation that she would help make a striking astronomical discovery. But she knew she wanted to do research, and she had her sights set on the stars.
If there's one thing Gustafsson is not, it's one-dimensional. In addition to her physics and math majors, she's minoring in business administration. And she was a walk-on with the UO's Division I acrobatics and tumbling team, ending up as a member of the 2012–13 national champion squad.
Gustafsson always has been excited by science and math. It was only after she got to the UO and spent some time helping a graduate student researching women in science that she realized there were stereotypes that often work against women such as her.
"I was never turned off by science," she said. "I just enjoyed it. Nobody told me I couldn't."
And what Gustafsson is doing now is real science. She's been taking the raw observational data and using specialized computer programs to get rid of errors that are inherent in all data taken by telescopes. She is working to remove these artifacts and to really understand the data at a fundamental level. The end product will be clean data that stands up to the scrutiny of peer review and, hopefully, solves the mystery of M94's cryptic fountain of X-rays.
"One of the main reasons I came to the University of Oregon is because it's a real research university," she said. "I don't have any regrets. Things just seem to have fallen nicely into place."
Telescope Jockey

Jeremy Bullis (left) loves astronomy. Forgive him, though, if he just doesn't want to be an astronomer.
Bullis, a senior, is captivated by telescopes. He loves the cameras and filters and spectroscopes and other gear that capture and coddle starlight. And when the observatory dome slides open to reveal a velvet sky studded with stars, something catches in his throat.
But for Bullis, the idea of sitting at a computer to slice and dice data kind of sucks all the inspiration out of astronomy. He decided he'd rather be the guy running and fixing the telescope than the person looking through it.
No problem.
Bullis found exactly what he was looking for in the UO physics department, where he's become the student leader of a project to build a robotic telescope at the university's Pine Mountain Observatory (above) east of Bend. Think of it as a senior research project, only more hands-on.
A double major in physics and math, Bullis has the academic chops to be an astronomer. He worked alongside fellow physics-math major Annika Gustafsson on her project analyzing an unknown X-ray source in the galaxy M94, and last summer he was the first UO student ever to be picked for a paid internship at the Gemini Observatory on Hawaii's Mauna Kea (below).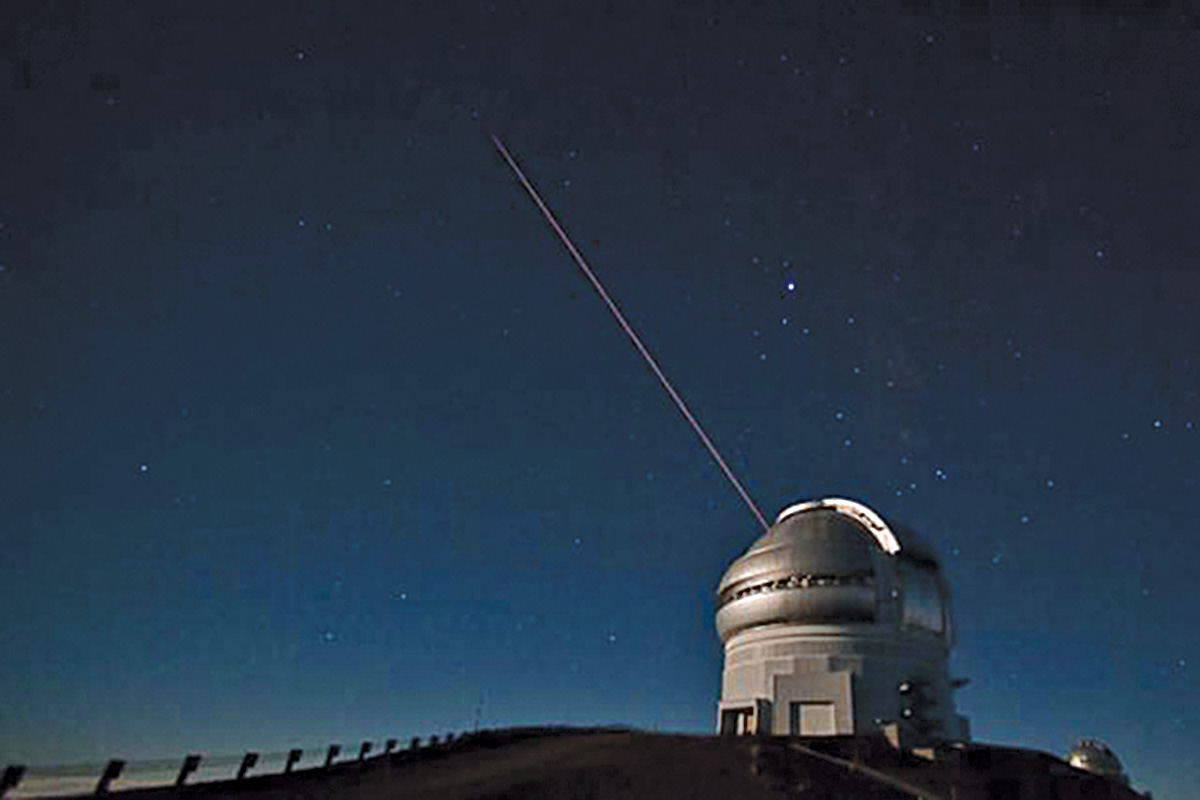 That experience sealed his preference for the support work of astronomy over actual research. He remembers making it up to the 13,600-foot-high observatory, huffing and puffing up five flights of stairs in the thin mountain air to the telescope deck and being simply blown away.
"I think that's when I really got hooked," he said of his first sight of the 75-foot tall telescope and its array of cameras and technical gear. "It was at Gemini that I realized that I'm more interested in enabling the research than being the person behind the computer analyzing the data."
(Want to learn more about Gemini? Check out these details; or, explore these facts about Pine Mountain Observatory.)
Fisher, the undergraduate studies director in physics, said Bullis was an obvious choice for the Pine Mountain project. Funded by donor Ken Robbins, a longtime supporter of the observatory, the new 14-inch telescope will be entirely remotely operated from an office in Willamette Hall. Robbins was honored at a ceremonial ribbon-cutting at the observatory earlier this year.
A lifelong tinkerer and son of an engineer, the 28-year-old Bullis used to go to Goodwill stores with his brother just to buy things to take apart. But engineering wasn't in his blood; the stars were.
"That's pretty much what brought me here in the first place," he said. "It was astronomy and my love of the stars that brought me to this program."
The Pine Mountain project is a technological challenge, if only because of all the instruments connected to the telescope. Bullis spent all of last summer at Pine Mountain as a research assistant, and is now back on campus for his senior year.
And now he becomes a telescope jockey.
"Jeremy's job is going to transition from apprentice mountain guy to master telescope operator," Fisher said. "He's going to be the guy that knows the system inside and out." 
—Greg Bolt
Gemini Photo: Courtesy of Gemini Observatory
Pine Mountain Observatory Photo: Ben Canales