Guest Editorial: Carly Wright
Process of discovery yields results in lab, and in life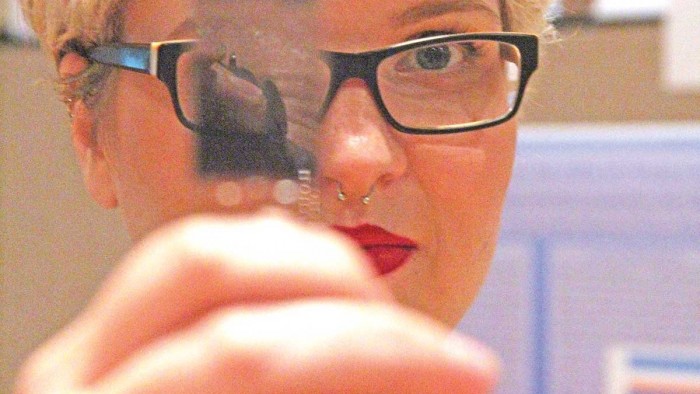 This entire issue of Cascade is dedicated, cover-to-cover, to undergraduate research. This page is usually reserved for a message from the dean, but we are turning it over to Carly Wright, a junior in physics, for her first-person story. In this photo, she shows her stuff at last May's Undergraduate Symposium. Her research involves manipulating light with this forked diffraction grating, composed of two glass slides glued together with film in the middle.
If I've learned one thing about research, it's this: The process of discovery is full of challenges.
I came to the University of Oregon for architecture—and because the UO had numerous options if architecture didn't work out. It didn't, and that's when my own discovery process began.
On my dad's advice, I did an internship at a petroleum engineering firm after freshman year. I got some valuable advice from a company executive: There are good jobs in the hard sciences. I've always loved physics and math, and I was up for the challenge.
I found my passion for learning in physics. It's fascinating to think of the world around us in terms of physics—many aspects of the world can be simplified into a model described by physics. I like working with my hands, so I started spending time in the Advanced Projects Lab, shooting lasers through mirrors and building vacuum systems.
Still, I was missing a major aspect of the physics experience. So I began another round of self-discovery: I talked to professors about the options available in research. After attending meetings of the Society of Physics Students, I found a home in applied physics—professor Miriam Deutsch accepted me into her lab.
This was my first exposure to a research group. Listening to her graduate students explain their projects, I saw why research is important, how it can be applied to improving lives.
That led to another lab and my first research project: Ben McMorran, an assistant professor, put me to work using a scanning electron microscope for nanofabrication. Now I'm working on creative ways to overcome technical hurdles in this field. Ben has given me many opportunities to discover what my career might look like, by pointing me to conferences and helping me present and publish my findings.
Research makes me really passionate about what I do, and it's improved my life in ways that aren't quantifiable: I'm more productive now, I can keep to a schedule, my social skills have improved quite a bit—I enjoy talking to people about what I do.
It hasn't always been easy—research can be incredibly frustrating. It's full of challenges, but those challenges are beneficial; they have helped me enjoy what I'm doing even more and have inspired my creativity.
Learn to love the challenges. It will help you enjoy the process of discovery—in the lab, and within yourself.
Photo: Matt Cooper