Diving Deep
From Oregon tide pools to oceangoing voyages, UO marine biology students get their hands dirty and their feet wet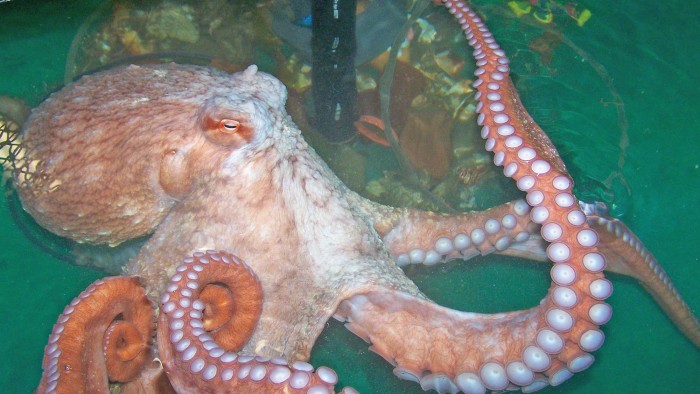 This giant Pacific octopus and other marine animals enjoy the natural seawater that flows through the teaching and research labs at the Oregon Institute of Marine Biology.


At low tide near Cape Arago on the southern Oregon coast, the ocean recedes and a living laboratory is revealed.
On kelp-covered rocks dotted with tide pools, students from the Oregon Institute of Marine Biology spend hours searching out, measuring and cataloging the myriad forms of sea life exposed in coves along the rocky shoreline. Often they learn about a particular organism in a lecture class in the morning, then spend the afternoon observing it in the tide pools.
But they might just as easily be onboard the Pluteus, a 42-foot research ship equipped with its own remotely operated submersible. Every student who takes the subtidal and deep-sea ecology course learns how to drive the minisub, which is equipped with video cameras and a robotic arm that let students study the huge diversity of sea life just off the Oregon coast.
At the institute's picturesque campus at the mouth of Coos Bay, a half-dozen research labs probe the frontiers of marine knowledge as part of the only marine biology degree program in Oregon. A substantial amount of the research expanding those frontiers, in labs both indoors and outdoors, is done by undergraduates.
"One of the coolest things about being here at OIMB is you don't just read about science, you get to do it," said Christy Stumbo (above), who wrapped up both her degree in marine biology and her part in a research project this summer. "You get your hands dirty and your feet wet."
Opportunities for undergraduate research are many. Students regularly take part in ongoing, long-term studies being conducted by members of the OIMB faculty, including one that helps estimate the annual Dungeness crab harvest on the entire Pacific Northwest coast. They often are recruited for other projects in the labs of individual professors. And undergraduates also are encouraged to take on their own research, whether for honors programs, to earn additional academic credit, prepare for graduate school or postgraduation employment or simply to satisfy their own curiosity about the marine world.
Talented Hands, Good Energy

Craig Young, OIMB's director for the past 12 years, said bringing undergraduates into the institute's research projects isn't an afterthought—it's a vital tool that helps professors take on funded research that otherwise would be difficult to complete.
"Undergraduates are critical to some of our research programs," Young said. "When a faculty member gets a National Science Foundation grant that needs the help of a lot of talented hands, some good energy and some patience, it's often undergraduates that make the work possible."
Located in the fishing village of Charleston, OIMB sits on forested land wedged between the town's harbor and the mouth of Coos Bay. The scenic, 130-acre campus is mostly forest and headlands that haven't changed much since it was home to bands of Coos and Coquille Indians long before the arrival of Europeans.
The main buildings have a distinctly maritime look: gray-shingled siding with white trim around the windows, many with second-story dormers that look out onto the harbor. Students stay in dorms on the top floor of three of the larger buildings, while a row of cottages provide housing for the many visiting researchers drawn to the institute by both its reputation and location.
Fresh seawater pumped from the bay flows to all of the labs, which also house high-tech microscopes, machines for analyzing DNA and other instruments needed in marine research. The seawater bubbles through rows of laboratory tanks that can hold anything from microscopic plankton to a giant octopus.
(Learn more about the Oregon Institute of Marine Biology.)
All UO students seeking a degree in marine biology are required to spend three terms at OIMB, typically in their junior or senior year. Although the terms don't have to be taken sequentially, usually they are. The academic year runs through spring, summer and fall, with faculty members typically reserving winter term for research.
"They Can't Keep Me Away"

But even with no classes to take, a fair number of undergraduates stick around campus in winter, enlisted by professors to take part in research or to pursue projects on their own. At times it seems as if students cling to the institute with all the tenacity of the barnacles that cover the wave-splashed rocks of Cape Arago.
"They can't keep me away," said Anders Hansen, an undergraduate who's starting his second year at OIMB this fall.
While pursuing his degree, Hansen has been working with professor Alan Shanks on long-term research tracking the movement of certain species of plankton. Shanks studies the life cycle of marine invertebrates such as sea urchins, which depend on ocean currents to spread their larvae, known as plankton, to new habitat.
Shanks believes, and his research so far confirms, that these invertebrates actually spawn and produce plankton during winter's heavy storms, when prevailing currents keep the tiny larvae in favored shallow-water habitat. If they spawned in spring or summer, as is more typical for other animals, the upwelling currents would carry the plankton seaward into deeper water, reducing the chance they would survive and grow into adults.
Hansen and several other undergraduates have signed on to the project. They spent last winter working a grueling sampling regimen that had them out on the water every day, seven days a week, taking samples from plankton traps on the ocean and in the bay.
Once they got back to the lab, students then spent hours at microscopes inventorying the tiny plankton to separate out those that Shanks is studying. For a seasoned researcher, it's tedious work. But for an undergraduate just learning the research ropes, it can be a revelation.
"It's truly spectacular," Hansen said. "I would say it's one of the greatest learning experiences I've had [at the university]."
Shanks and fellow marine biology professor Richard Emlet had six undergraduates working for them last winter on the plankton project. It was essential to collect samples daily to accurately track the beginning and end of spawning season and collect the full range of larvae, but that meant having students out collecting samples every single day, in all kinds of weather.
"It was intense," Shanks said. "But these are enthusiastic people. This is what they want to do."
An Occupational Hazard

Kara Robbins, a Wyoming native, was a regular on those sampling trips and said they were everything she hoped marine biology would be—with the possible exception of seasickness.
But Robbins brushed that off as an occupational hazard. There were times, she said, when the excitement of the work made her forget she was on a relatively small boat pitching up and down on a very large ocean. For a moment, at least.
"You can forget about it in the excitement of the work, but then you'll look up and suddenly start thinking, 'Not good, not good, not good,'" she said. "But if it's what you love doing, then you kind of take the bad with the good."
That's an attitude that makes undergraduates such an important part of OIMB's research, Young said. Because research, frankly, can be boring. Or at least certain parts of it are, especially if you've been doing it for years or decades.
But for undergraduates getting their first taste of the intellectual smorgasbord research offers, it's all good. The experience gives some of them a leg up on the next stage of their careers, while others decide that it's time to change course and choose another destination.
"I think there's a perception that marine biology is all swimming with porpoises and diving on coral reefs in tropical oceans, but most of it involves really careful work that is time-consuming," Young said. "Here, students learn what research is really like and whether a career in research or academia is what they want to do. Unfortunately, a lot of undergraduates don't get that kind of experience until late in their education, or not at all."
Senior Ashley Hueckstaedt, another Wyoming native, has found research anything but boring. She's working with graduate student Kirstin Meyer on a project to better understand the extent and diversity of subtidal marine life in the Cape Arago area, which has been suggested as the site of a future marine sanctuary.
Part of the work involves towing a camera sled behind the Pluteus and photographing the kelp, sea urchins, crabs and other plants and creatures that make their home there. Later, Hueckstaedt and other students help analyze the pictures to better understand how much and what kind of sea life the area supports.
At times the work is like pulling back the curtain on a view human eyes have never before witnessed.
"It's amazing because I didn't realize how much was down there," Hueckstaedt said. "There's some things down there that have never been seen before. It's incredible."
That's the kind of experience that creates such a strong connection at OIMB. Young said students not only learn more but also remember more because of the way classroom lectures are combined with field experience, something Hansen found to be true.
Voyage to the Bottom of the Sea

"The cool thing is, we would be in class learning about something, and then we'd go out and we'd actually see it," he said. "In a lecture, it's just words the teacher is saying. But when you go out there, that's when all the connections are made. That's when learning happens."
And learning sometimes happens in more exotic places as well. Faculty members often have room for undergraduates on research expeditions that can take them to oceans all over the world, and even on voyages to the bottom of the sea.
That's exactly where several undergraduates found themselves this past summer, after Young offered them a chance to take part in a research trip to the Gulf of Mexico. Some even participated in deep-sea dives in the famed submersible Alvin, operated by Woods Hole Oceanographic Institution. In fact, the trip was the first science mission for Alvin following an extensive rebuild and upgrade and helped mark the sub's 50th anniversary.
Up until that voyage, Hueckstaedt had known Alvin only from the cable television show Animal Planet. Although she grew up far inland in Wyoming, Hueckstaedt fell in love with the sea after seeing it for the first time as an eight-year-old on a family trip to California.
After that, she rarely missed a television show or documentary about the ocean. But the idea she might one day be one of those people she had watched climbing into a submarine? Forget it.
"I never in a million years thought I would go down in Alvin," she said.
Hueckstaedt was a plankton sorter on the trip. Young studies the reproduction and early life stages of marine invertebrates, and he's particularly interested in animals that live around—and are sustained by—naturally occurring methane seeps found in the Gulf, Caribbean Sea and Atlantic Ocean.
One of the questions Young is trying to answer is how mussels and other invertebrates travel among widely separated seeps and pass their genes to successive generations. The answer may well be found in plankton, the larval stage of the creatures, and that's what brought him and his undergraduates to the Gulf.
Untold Tons of Water

Alvin has space for one pilot and just two scientists, so going on a dive can be a rare honor for undergraduate students. Hueckstaedt was in such a state of wonder on her dive that she doesn't remember how long it lasted and didn't care that untold tons of water were pressing hard around her.
"You don't really notice time, because you spend all of it with your face right up against the porthole," she said. "You don't even think that if you went outside you'd be crushed in an instant."
Hansen also got a berth on that voyage and, after a coin toss went his way, a seat on an Alvin dive. His dive took him thousands of feet down to one of the strange underwater brine pockets that form around methane seeps, which also are known as "cold seeps."
As the sub sank into the darkness of the Gulf, Hansen was awestruck by the sheer variety of life in the depths. Strange-looking eels came to investigate the sub, and weird lobsters, shrimp and snails appeared in the sub's powerful spotlights.
At times it felt like a fantasy. But paradoxically, Hansen also felt more connected to the living world than ever before.
"It didn't even really sink in at first that it's reality," he said. "It's difficult to actually describe it. It gave it a different depth of reality."
But if deep in the Gulf of Mexico isn't enough, OIMB undergraduates also have a chance to take part in a research class on tropical biology taught by Richard Emlet and senior lecturer Janet Hodder in Panama, or help Cynthia Trowbridge, a senior research associate, on an annual trip to Ireland.
The Trowbridge project brings a team of undergraduate and graduate students to the Lough Hyne Marine Reserve on the shores of West Cork, Ireland, to investigate a sudden decline in sea urchins and the possible role of an invasive algae species in the drop-off. Students spend about a month living in a cottage on the shore of the marine lake while they help with ongoing research.
But students don't have to go halfway around the world to experience the wonder and diversity of marine life or to find strange or even entirely new species.
Scientists and students from across the country and all over the world come to OIMB because it is surrounded by an almost unrivaled ecosystem of marine plants and animals. The region's headlands, ocean shelves, tide pools, kelp forests and shorelines provide a world-class laboratory for both study and exploration.
"Some of the most spectacular rocky shores in America—actually, in the world—are located right here," Young said. "OIMB is one of the best places in the world to find a high diversity of marine organisms within reach of a marine research center."
Never a Dull Moment

Yet for all its research advantages, the institute is still a relatively small field station. Students enjoy classes that rarely have more than 20 students and that sometimes have two instructors, so there's plenty of face time with faculty members. It's an immersive learning experience that's rare on larger campuses.
This environment sparks both awe and inspiration. It creates a pull students feel every day, something that draws them to the water's edge even without the excuse of a class assignment or research project.
In large part, that's probably why students here seem to spend far less time staring into smartphones or laptops or televisions than their peers on the UO's main campus. You might think that, even with its small-town charms, Charleston would send young people running for the nearest high-speed cable connection.
But you would be wrong.
"I don't really have any dull moments," Hueckstaedt (below) said. "If I'm not studying or
sleeping or eating, I'm probably in the tide pools."
It's the same with most other students at the institute. People here have a shared love of the sea and the shore and the things that live there, but there's a bonding among OIMB students that goes deeper than that.
When you've spent time with the same group of people leaning over the rail on the Pluteus on days when the sea isn't the only thing that's heaving, when you've shared long days in the same lab sorting tiny plankton, when you've sat in the same daylong classes and watched out for each other around kelp-slickened tide pools, you come to be more than just classmates.
"It's a great community," said Stumbo, the recent OIMB graduate. "It's a very unique experience, especially at a big research university."
—Greg Bolt
Photo credits: Stumbo, Hansen and Robbins (Greg Bolt); Alvin (Woods Hole Oceanographic Institution); Hueckstaedt (Craig Young)