By Patricia Hickson
Data visualization—the art of displaying data in ways that reveal new and meaningful patterns— is the special province of the UO's renowned InfoGraphics Lab.Two former students (now master's degree recipients) have gained national recognition for their groundbreaking work.
Last January, Kory Northrop won the grand prize in a nationwide data visualization competition sponsored by the U.S. Department of Transportation. His project, "Bicycling Commuting Trends in the United States," involved a series of interactive graphics relating the popularity of bicycle commuting to factors such as bicycle fatalities and government spending on bike-friendly initiatives.
Derek Watkins has enjoyed a different kind of recognition: some of his cartographic creations posted on his blog, Creative Mappings, have gone viral. Last May, technology blogs, including The Guardian and Gizmodo, featured a map he created depicting world population density, and this in turn led to Vanity Fair extolling the map's virtues in an online article. Other maps by Watkins have garnered attention from other high-profile media outlets.
"Kory and Derek are pushing boundaries," said Jim Meacham, director of the UO's InfoGraphics Lab and a mentor to both. "They excel in taking data sets and thinking of innovative ways to display that data, to show patterns people haven't seen before."
Visualizing Where Seven Billion People Live
It's hard to visualize where seven billion people on the planet live. But Watkins's map of population density gives us a pretty good idea. Watkins, who received his master's in geography last spring, said he made the map "to get people thinking."
"Maps aren't objective," he said. "They can change the world with the stories they tell."
His population density project began last spring. Inspired by The Continents and Islands of Mankind, a map by spatial theorist and geographer William Bunge, Watkins created a black on white image of the world where only those places with population densities of at least five people per square kilometer are shown. (Pretty much the entire eastern half of the U.S. and all of the West Coast qualify.)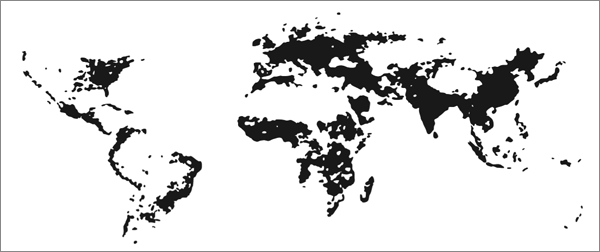 At this low density, most of the landmasses of the world show up and the resulting graphic is an easily recognizable illustration of the continents (see image above)—all of them, save Antarctica, are neatly outlined or filled in black, showing the swaths of terra firma where the world's population resides.
Watkins then takes this visualization to the next level with interactivity. A slider bar allows viewers to toggle population densities from five people per square kilometer to 500 (try it for yourself; see Online Extras). As the densities increase, the black landmasses on the map begin to disappear, so that only the locations with the higher densities remain.
At twenty people per square kilometer most of the Americas are erased, along with Australia, a huge swath of North Africa and nearly all of Russia. By 200 people per square kilometer, most of the world has gone white. Finally, at a density of 500 people per square kilometer, black remains only at the edges of China and India.
Watkins's population density map, which he published in April 2012, made an online news splash. But even before its release, Watkins's work had attracted attention. His first post to his blog site—a map depicting the distribution of generic names for rivers and streams in the continental U.S.—garnered media attention from Fast Company Design.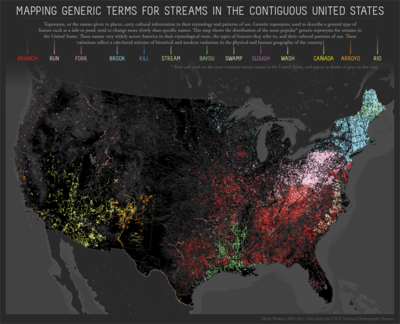 Right: With this map, Watkins color coded water bodies across the U.S. according to popular nomenclature. As his map shows, terms for waterways vary widely from region to region.
That map, a beautifully illustrated depiction of America's waterways, provides an unusual perspective on the water topography of our nation. Using data from the U.S. Geological Survey National Hydrography Dataset, Watkins color-coded water bodies across the U.S. according to popular nomenclature. As his map shows, terms for waterways vary widely from region to region. The northeast is dominated by blue-colored "brooks," the southwest peppered with orange "arroyos" and yellow "cañadas" and the Gulf Coast region rich with lime green "bayous."
The result is a graphic that tells a story about the U.S. from a cultural and etymological perspective. "Our names for our water bodies reflect our cultural heritage, migration patterns and language use," Watkins said. You won't find a "wash" in South Carolina or a "swamp" in California, for instance.
One of Watkins's interests is in building connections between parts of geography that have traditionally been divided. Cartography, as a subdiscipline of geography, has been associated with the more "scientific" side of geography, rather than the "social" side that is closer to what sociologists and anthropologists do. But Watkins sees that traditional divide changing as tools for transforming and mapping data emerge.
"In the past, cultural geography and computer mapping were an unusual combination for a geography student," he said, "but with the technology available today, there is no reason for there to be a divide in the discipline anymore."
This past summer, Watkins was an intern in the graphics department of the New York Times. He is the third student associated with the UO's InfoGraphics Lab to land a job at the prestigious paper.
Data Visualization for Better Informed Policy
From October 2011 to August 2012, Northrop, who received his master's degree in environmental science last spring, pedaled his bike an average of 7.06 miles for 39.06 minutes per day. Not counting recreational or bicycle touring rides, his longest on-bike day that year was August 21, a Tuesday, during which he rode 37.56 miles. His shortest day: Wednesday, August 8, 1.36 miles.
All these stats—and many more—are available via an interactive online chart Northrop created by transferring to his computer the data from a cyclometer on his bike. The chart uses color-coded bubbles (right), with size indicating ride time and color corresponding to the day of the week, to chronicle his commuting adventures. Hovering over a bubble with your mouse gives you details about the date, mileage and Northrop's time on the bicycle seat.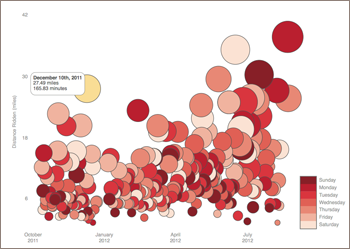 Left: In this chart, Northrop uses color-coded bubbles, with size indicating ride time and color corresponding to the day of the week, to chronicle his bicycle commuting adventures. The online version of the chart is interactive—hover over a bubble to get more information about that day's commute.
Another project—his award-winning data visualization, "Bicycle Commuting Trends in the U.S."—provides an equally intriguing interface and enough enticing information to encourage viewers to click around on the maps and charts.
"Click around" is exactly what Northrop hopes viewers of his data will do—like the judges in the competition that bestowed the grand prize on his project. The competition encouraged students to create visuals that would support decision makers in creating better- informed policy about transportation safety. Northrop believed that offering graphics that encouraged engagement would be more effective than providing static facts and figures.
"I want people to be able to pull the information from the charts and maps themselves," Northrop said. "There is value in not having everything spelled out. When people interact with the data, they feel a sense of ownership. They start drawing their own conclusions, and that's a lot more powerful than bullet points you hear and forget."
And what conclusions might be drawn? Within a couple minutes of interacting with "Bicycle Commuting Trends", viewers will notice that women make up a much smaller percentage of total commuters than men, ranging from 35 percent in Portland, Oregon, to 4 percent in Riverside, California. And then there's the percent of commuters who go by bike overall: Of the seventy- two American cities with at least 250,000 residents, the city with the greatest percentage of commuters traveling by bike is, true to reputation, Portland. But even in Portland, cyclists account for a mere 5.9 percent of the total commuting population. Cycling stats bottom out in Memphis, Tennessee, where a measly 0.06 percent of all commuters bike to work.
The discrepancies may be partially explained by another chart showing federal investment in bicycle and pedestrian infrastructure for the last twenty years. Only $2.96 per capita was spent in 2011. The most spent in an individual year over the twenty-year period was $4.00 per capita; the least, five cents. Regarding the commuting disparity among states, Northrop's map of bicycle fatalities per state tells another suggestive story. Do those states with high cyclist fatality rates have low overall bicycle commuting rates? The short answer: yes.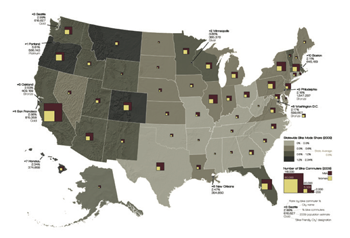 Left: This map, "Bicycling Commuting Trends," shows the proportion of bike commuters in each state, as indicated by the size of the squares. The states are also color-coded to show the percentage of bike commuters overall. Oregon is among the very highest, percentage-wise.
Northrop is ultimately driven by a long-term vision for his work. "I want to help retrofit the transportation systems in American cities," he said. "Transportation infrastructure doesn't have to be a concrete maze we move through in our private cars. It can be a system that fosters social interaction and gets people outside."
Northrop is currently an intern at the City of Eugene Transportation Planning Department. Later this fall, he will start an internship that will involve mapping cycling bottlenecks in the Dutch province of Noord-Brabant, working with Goudappel Coffeng, a firm specializing in multimodal transportation planning.