Four political science majors have staked out careers at the vanguard of high tech. They came to the UO to major in political science. They left to conquer the world—the corporate world, anyway. Jill Hazelbaker, Tucker Bounds, Stephen Gillett and Renée James—all political science alums—are now top executives with some of the biggest names in business: Google, Facebook, Best Buy and Intel, respectively.
Could they have predicted that courses exploring political theory and international policy would catapult them to the top of today's vanguard of technology innovation and distribution?
Probably not, but that's the beauty of the liberal arts, which pave the way for success in any field by fostering essential skills: communicating persuasively, framing relevant questions, collecting and analyzing data, working collaboratively toward creative problem-solving.
And it gets even more specific: Hazelbaker and Bounds— Republicans on the legendarily liberal UO campus—learned to work across the aisle; Gillett and James claim that course work topics ranging from NAFTA trade agreements to religious diversity are paying off as they make decisions daily that affect tens of thousands of employees and the bottom lines of multibillion-dollar companies.
Profiles by Matt Cooper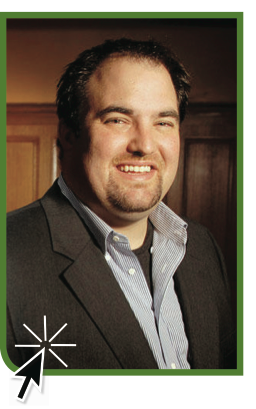 Stephen Gillett '98
President, Best Buy Digital, Global Marketing and Strategy
When Stephen Gillett played football for the University of Oregon in the 1990s, his job as offensive guard was to clear the way for teammates to run to glory.
Now that he's in the corporate world, it's Gillett who keeps scoring touchdowns.
From Silicon Valley to Starbucks to the upper echelons of Best Buy, Gillett has enjoyed a meteoric ascent in consumer and digital technology. His recipe for success could scarcely be more original, combining equal parts football player, risk taker—and avid online gamer.
Gillett is president of Best Buy Digital, Global Marketing and Strategy, and he also serves as an executive vice president with the Minnesota-based consumer electronics giant. He's been named to Fortune magazine's "Executive Dream Team" and its "40 Under 40" list and was Information Week's "Chief of the Year" in 2011.
Comparing his career philosophy to that of the big-wave surfers in the movie Riding Giants, Gillett says he relishes taking on an outsized challenge when the danger is a professional wipeout. It prompted him to join the Starbucks reinvention in 2008 as a chief information officer and executive vice president of digital ventures and it propelled him to join Best Buy last April as a "transformation leader."
"I have a passion for consumer technology and how it's used," Gillett said. "I like riding the giants. It's exciting."
Gillett has been a techie since he was a nine-year-old programming software on his father's IBM. He left the UO football team to get a tech job and spend more time in classes that would help him join the emerging Internet boom; he also started a side business doing tech support and consulting. After graduation, he spent nearly a decade in Silicon Valley, holding senior technology positions with Yahoo! and CNET Networks.
Gillett was later a chief information officer for Corbis, a digital media company owned by Bill Gates, and he worked closely with the Microsoft founder.
"What I learned from Bill is that you have to have a passion for what you do if you ever want to succeed," Gillett said. "If you go in as a hobbyist or a casual player, he will sense that a mile away."
Gillett's affinity for politics made political science the obvious choice while at the UO. And as he climbed higher up the corporate ladder, he found ways to put that education to work.
"As I started to get up in the ranks of corporate America, I started to deal with public policy, NAFTA trade agreements, the western European financial crisis," Gillett said. "All of a sudden, all of the studies I did as an undergraduate really became relevant."
Gerry Lopez, president and chief executive officer of AMC Entertainment, who worked with Gillett at Starbucks, said Gillett has "a sense of wonderment and a can-do attitude that simply drives him to excel."
"He leads by getting folks to buy into his vision of seizing moments of disruption to launch something new," added John Seely Brown, former director of the Xerox Palo Alto Research Center and Amazon board member.
Gillett's business education also owes to an unusual source. He has been rated among the most innovative guild masters in "World of Warcraft," an online role-playing game in which millions of participants in a virtual world engage socially, organize quests and celebrate achievements.
"I learned much about leadership and teams in gaming well before I learned it in the corporate world," Gillett said. "Long before I managed international teams and language barriers and hiring people and building a treasury, I was doing it in the virtual world."
Gillett acknowledges that his rapid rise occasionally leaves his head spinning. He credits a stable family and marriage to his high school sweetheart, Aisha, also class of '98 at the UO, for keeping him grounded.
"It is a little surreal," Gillett said. "One minute I'm bagging groceries at Albertson's on Hilyard and the next I'm in an article on the cover of Fortune magazine. At the end, I'm still just the kid from South Eugene High School."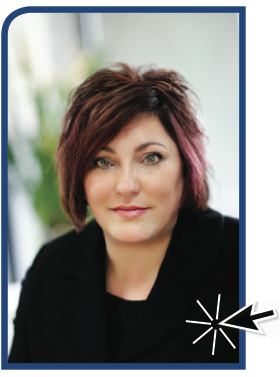 Renée James '86
Senior Vice President and General Manager, Software and Services Group, Intel Corp.
The skinny on Renée James is that she can sit in a room full of computer engineers and not just understand what they're saying to her—she can help them understand each other.
"That's what people say about me," James said, laughing. "One of the things that a liberal arts background gives you is the ability to create analogies from historical reference or literature or some other point of view and help people bridge the gap between pure technology and how it's useful to you as a human being. That marriage between how you build it and how you use it is really quite important to tech."
James was speaking by cell phone as she navigated the streets of Portland, making the most of every minute in her day. As a wife, mother and executive with a Fortune 50 company, she has turned the task of scheduling into a high art.
Consider a typical week: Board meeting on Monday in London, fly back Tuesday for a board meeting in California on Wednesday, make it to Eugene by Thursday for your twelve-year-old son's Little League game—all the while keeping appointments with your personal trainer or hitting the gym in whatever hotel is home for the night. It's like this two or three weeks out of every month.
"I am absolutely one of the most disciplined time managers you'll ever meet in your life," James said. "I use every minute purposefully and I don't like people to waste my time."
James is senior vice president and general manager of the software and services group for Intel Corporation. She is responsible for research and development as well as product delivery for all segments of Intel's worldwide software and services portfolio, plus the company's developer programs across the globe.
James would like to say she's shocked by her success. But that wouldn't be honest.
"I'm a goal-oriented person," James said. "You don't have to be privileged to go to a great university or have a great job. You have to work hard. And I worked really, really hard."
With her political science major, James envisioned a career in foreign policy. But she was working for a start-up in Silicon Valley when it was purchased by Intel more than twenty-five years ago and the rest is history. James' ascent with Intel included a four-year stint working alongside company founder and high-tech legend Andy Grove, a turning point in her career.
"He taught me a lot about understand- ing people, their motivations—thinking about what really was going on," James said. "Business is a lot about understand- ing what's really happening, versus what people say."
Doug Fisher, vice president and general manager of the systems software division, called James "the driving force behind software at Intel for twenty-plus years."
"She has an amazing ability to keep a pulse on the industry shifts and quickly incorporates changes into our software strategy to take advantage of them," Fisher said.
A staunch advocate of improving math and science opportunities for girls, James was an overachiever as a kid. Her father was the first in his large family to go to college and James developed the same work ethic.
"I was a relatively serious kid in the sense that I had sports, I had dancing, I was very, very competitive—I wanted to be the best," James said. "The other kids were out goofing around. I wasn't."
At the UO, James was introduced to a wealth of diverse ideas in the College of Arts and Sciences. Classes in ethics, philosophy and religion gave her critical insight into cultural diversity; that's no small concern, given James must navigate the customs and priorities of tens of thousands of employees whom she supervises across the globe.
Even more fundamental to her success, James said, was the guidance her education provided in how to think critically.
"Teaching people to think is part of what you do in a liberal arts college," James said. "And being a critical thinker actually is applicable to a lot of jobs."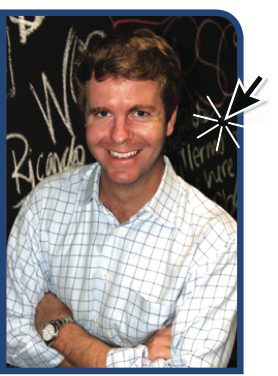 Tucker Bounds '02
Manager of Corporate Communications, Facebook
Public relations guru Dan Lavey recalls the exact moment when he realized his young friend, Tucker Bounds, had arrived.
Lavey, president of Portland-based Gallatin Public Affairs and a 1988 UO history alumnus, was watching Larry King Live during the 2008 Democratic convention. A panel of Republicans had been assembled for reactions and the first question went to Bounds, a spokesman for presidential candidate John McCain.
"Well, Larry," Bounds responded, and then continued with his answer.
For Lavey, those first two words said it all. "Referring to him not as 'Mr. King' but 'Larry'—Tucker understood the theater in which he was playing," Lavey said. "If he had called him 'Mr. King' he would have looked like a young man, somebody who didn't belong. He demonstrated, 'I belong here.'"
Whether speaking for a presidential candidate or in his current role as manager of corporate communications for Facebook, Bounds holds the same philosophy: Take on new challenges, even if the stakes are high.
"At every turn I made a decision to try something different and take on risks," Bounds said. "In campaign politics and similarly at places like Facebook, you're moving quickly to set up an operation, build infrastructure and end with the successful launch of a project or an election day."
Lanky and loquacious, Bounds got his start in politics while at the UO, volunteering with a candidate for the Eugene City Council.
The university provided Bounds with a broad network of "smart, dynamic" alumni who helped him climb the career ladder, he said. Bounds maintains those friendships today; he and Jill Hazelbaker (right, whom he worked with on the McCain campaign) still meet for drinks, proving that even within the head-to- head competition between Google and Facebook there is room for two Ducks to maintain school ties.
As Republicans at the Democrat- dominated UO, Bounds and Hazelbaker also learned quickly to appreciate different points of view—something that Bounds credits for his success.
"Maybe the tenor of politics would be improved if everybody had to go into an environment where they had to be willing to find common ground with others to get along," he said. "That sometimes is what's missed in Washington."
Born in eastern Oregon, Bounds was raised in a family that valued politics and he developed an appreciation for hard work in the fields of a friend's wheat farm.
Previous to the McCain campaign, Bounds worked with Oregon lawmakers Greg Walden and Gordon Smith, the 2004 Bush campaign and the 2006 Republican National Committee. Campaigns & Elections magazine named him a "Rising Star" in 2009.
Politics can be nasty and a spokesman must remain composed under the most trying of circumstances. In a classic "gotcha" interview by CNN's Campbell Brown during the McCain campaign, Bounds displayed his rural-roots politeness, repeatedly allowing Brown to interrupt as he defended running mate Sarah Palin's foreign policy experience.
"Working on a wheat farm and working on a campaign are the same experience— you have to work every available moment," Bounds said. "You have to be up and ready for the reporters and making the most of every day. You can either choose to embrace it or you can do something else."
With his move to the private sector, Bounds joins a culture in which the fruits of his labor could be years in the making.
What doesn't change is the near-daily pressure to get on top of the issues— fast—and speak to them with the authority of an expert.
"Being on point and being able to move quickly—that's what's required of us every day," Bounds said. "There's a saying we use on the Facebook communications team: 'Move fast and speak clearly.'"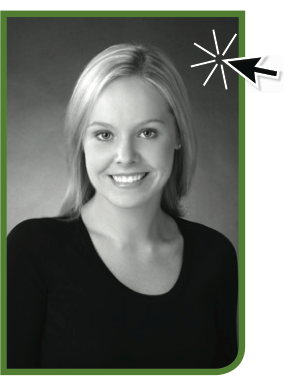 Jill Hazelbaker '03
Director of Corporate Communications, Google Inc.
In the summer of 2007, John McCain's primary campaign was in the ditch.
The former Republican front-runner was low on dough, slipping in Iowa and New Hampshire polls and forced to argue that he was not out of the race.
So McCain gutted his team and elevated a few key staffers to leadership positions—including Jill Hazelbaker, then McCain's New Hampshire communications director.
Hazelbaker became McCain's national communications director and one of his closest confidants. Moving forward, McCain recommitted to grass-roots politicking, first taking New Hampshire and then his party's nomination for president.
"During his ballroom victory speech in New Hampshire, I remember thinking, 'this is a huge moment in my life,'" Hazelbaker said. "I was incredibly proud of what we had done."
Hazelbaker's success owes largely to a steadfast commitment to seizing opportunities. "In my career, I've sought out successful people and asked for their help," she said. "Opportunities come from a willingness to ask for them."
Now director of corporate communica- tions for Google, the Salem native's path to private-sector prominence runs through politics: Intern for Representative Greg Walden while she was a college student; member of Senator Gordon Smith's 2002 re-election campaign and Jim Zupancic's campaign against U.S. Representative Darlene Hooley; campaign spokeswoman for New Jersey Republican Thomas Kean's U.S. Senate campaign in 2006; then McCain adviser and in 2009, a member of New York Mayor Michael Bloomberg's re-election campaign.
Hazelbaker is "fearless," said Dan Lavey, a Portland PR expert and a mentor for Hazelbaker and Bounds. "(In politics) you have to be fearless and resourceful, you've got to be willing to accept any challenge, hop on any plane, make any phone call and be willing to execute any assignment and never whine about it." Said Lavey: "Jill is about getting it done."
The definitive image of Hazelbaker comes courtesy of her mother, Becky: She described visiting her daughter once and seeing Hazelbaker rise by 5:00 a.m. to work out on her treadmill while looking over a stack of press clippings, watching the early-morning news and scrolling through e-mail on her Blackberry.
Hazelbaker has always pushed herself. She walked at nine months and rode a bike sans training wheels at four. She was a voracious reader and, in her estimation, "probably the youngest person who ever cared about the evening news."
At the university, she got her first taste for politics, campaigns and working across the aisle. "The UO opened my eyes to the fact that there are people of all different stripes and you don't have to agree on everything," Hazelbaker said. "The spirit of the UO is 'let's roll up our sleeves, dig in and solve this problem regardless of our differences.'"
At Google, Hazelbaker manages executive, crisis, policy and financial communications. Her schedule is a bit more flexible—she doesn't get up until 5:30—but there is plenty of pressure as the spokeswoman for one of the world's top newsmakers.
Hazelbaker's first day with Google, in fact, coincided with the company's announcement that it had been hacked and would no longer censor search results from China. A woman who hardly knew a browser from an operating system found herself leading Google's public response.
"It was the most interesting project I've ever worked on," Hazelbaker said. "What was surprising to me was how similar it was to my experiences with McCain and Bloomberg.
"In the end, managing well in crisis is about being fast and accurate," Hazelbaker said. "And knowing when to stop talking."