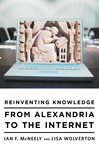 Join history professor Ian McNeely in an entertaining and enlightening survey of the key institutions that have organized knowledge in the West, from the classical period onward.
In his new book, Reinventing Knowledge: From Alexandria to the Internet (W.W. Norton), McNeely zeroes in on pivotal points of cultural transformation. The motivating question throughout: How does history help us understand the vast changes we are now experiencing in the landscape of knowledge?

This book is not about big ideas, or the thinkers of great thoughts (Newton, Einstein, etc.), but about the institutions that produce knowledge and the often fascinating and contradictory individuals behind them.

We begin with Demetrius of Phaleron, a man who led a flamboyantly decadent lifestyle — and also initiated the construction of the legendary library of Alexandria. From this great center of Hellenistic learning and imperial power, we move on to the monasteries in the wilderness of a collapsed civilization, the vibrant universities of medieval cities and the explosive growth of new discoveries in early modern Europe.

With the development of science and the laboratory as a dominant knowledge institution in the modern period, we arrive at our present position: searching for direction amid the new democracy and commerce of knowledge on the web.

Download the first chapter of Reinventing Knowledge and watch Ian McNeely's talk at Google, Inc.

– Lisa Raleigh