UO physicist Jim Brau has long worked to educate the public on the possibilities of the new Large Hadron Collider (LHC). He's also part of an international effort to bring the world's next collider to the U.S.

Through high-energy proton collisions, the LHC has the capacity to show how the building blocks of our universe function, explained Brau, a Knight Professor of Natural Science. But physicists expect it to produce discoveries that will need further study in a different type of lab. The LHC can create millions of collisions resulting in millions of random results. A linear collider would be more precise, allowing scientists to achieve very particular results by shooting a beam of electrons head-on into a beam of positrons. The proposed International Linear Collider (ILC) could therefore allow scientists to reproduce and study the most important results achieved by the LHC.

The U.S. already hosts the SLAC National Accelerator Laboratory, a collider which operated throughout the 1990s and up until last year at Stanford, and the Fermi National Accelerator Laboratory in Chicago, which is currently the world's highest energy collider. But when the LHC begins operations again this fall, Fermilab's collider will be nearly obsolete; it can't match LHC's power. The U.S. Department of Energy chose Fermilab as a potential U.S. site for the new linear collider a couple years ago, but there are challenges to building another enormous, expensive, international lab.

"The biggest hurdle is on the side of the financing, and the whole international, political coordination," said Brau, who is hopeful that the new Obama administration will see the importance of this research and fund as much as half of the new ILC lab. "I personally think that the questions we're exploring are some of the deepest and most meaningful scientific questions that exist, so bringing the world community together on this is pretty exciting."

Brau says that designs for the new ILC could be available for funding consideration and construction as early as 2012.
-Chrisanne Beckner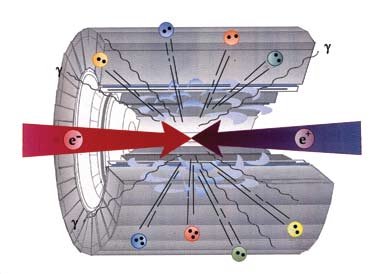 In a linear collider, head-on collisions between positrons (blue arrow) and
electrons (red arrow) could create new particles never before detected.