By Patricia Hickson and Lisa Raleigh
It's a fact that demographers, the media and personal experience have been confirming for well over a decade: Spanish is no longer a foreign language in the U.S.
According to 2009 Census Bureau data, there are 35.5 million native Spanish speakers in the U.S. and additional estimates claim there are 15 million who speak Spanish as a second language. Together, that's nearly 17 percent of the population.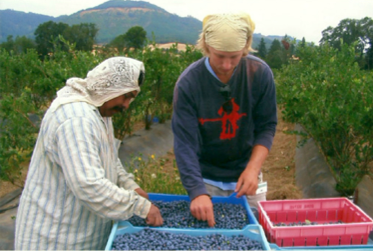 Joel Driver (right) received his degree in Spanish last June, then picked blueberries over the summer near his hometown of Roseburg, where he spoke Spanish with immigrants from Mexico and Guatemala.
This trend is not lost on the current generation of students at the UO, some 6,500 of whom enrolled in at least one Spanish class last year.
"Spanish is just something you have to know," said Kathryn George, a junior who is double majoring in Spanish and journalism. "At this point, the U.S. is a bilingual country—it's important to be able to communicate with the entire population."
Robert Davis,
an associate professor of Spanish, echoes this perspective. "Spanish is the second language of the U.S. That is the linguistic reality. Students recognize this."
But the ways students study Spanish— how seriously they apply themselves, how deeply they explore it, how thoughtfully they connect it to their other interests—are as varied as the thousands of UO students enrolled in Spanish at any given moment.
To be sure, many students are merely looking to get their two-year language requirement out of the way and Spanish is often the easiest language to pursue because it's the most commonly taught language in high school.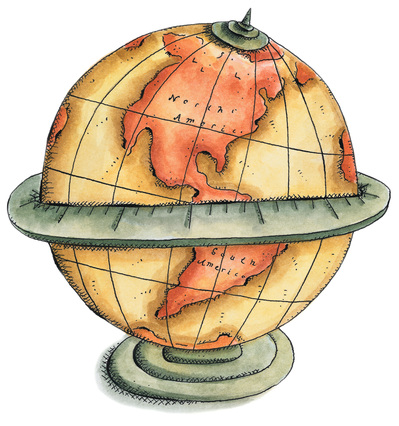 But other students are captivated by the music and beauty of Spanish. Or they see fluency as a practical asset for future employment. Or both. And this leads them to go much further down their individual path with the language. The great news for them is that Spanish instruction at the UO continues to expand and evolve in ways that accommodate the specialized interests of the creatively minded student.
Those who love literature can pursue the more traditional trajectory of the Spanish language major. At the same time, there's plenty of opportunity for those who care about human rights, international trade, environmental policies and practices, arts and culture and a myriad of other aspects related to the Spanish-speaking world.
And then there's the growing cohort of students who wish to delve into their own Hispanic heritage.
In other words, the study of Spanish at the UO is not a single, predetermined, linear pursuit.
"We are looking to complicate the vision," said
Amalia Gladhart,
former director of the UO
Latin American Studies Program
, a new and rapidly growing program that explores the richness and global significance of Central and South America. Not surprisingly, many students studying Spanish have also discovered Latin American studies and are double majoring in the two fields.
In fact, one indicator of how students are complicating the vision for themselves is the large percentage of them who are majoring in both Spanish and another academic discipline.
According to Davis, of the nearly 500 Spanish majors currently declared, more than 150 are also majoring in another subject—and these other fields run the gamut, from environmental studies to psychology to accounting to chemistry.
"To study a language is to become engaged with other places and ideas you think are interesting," said Davis. "Learning a language makes you an amateur anthropologist or ethnographer; it allows you access to the world from new perspectives."
George, the double major in Spanish and journalism, said she was inspired to master the language because her mother, a pediatric oncologist, relies on Spanish to communicate with many of her patients. "For her, it's about being able to directly reassure a patient," said George. "So many ideas and words get lost with translators." George hopes greater fluency will give her an edge in pursuing her dream job as an international journalist.
Brooke Kullberg, a Spanish and philosophy double major with a business administration minor, is particularly interested in social justice issues, including rights for Latin American immigrants and cross-border politics. "You have to know Spanish to organize with Spanish speakers," she said, "And also to collaborate and dialogue with the governments of Central and South America."
But practical goals are only part of the story.
Leonardo García-Pabón, a professor of Spanish and the head of the Department of Romance Languages, believes interest in the culture of Spanish-speaking countries is also a driving factor in ever-increasing enrollment.
"More and more non-Hispanics now see Spanish as part of their own culture," he said. "They view it as part of their home experience."
Home Improvement
Sometimes, however, students must leave home far behind to discover a meaningful connection to Spanish.
Joel Driver, a recently graduated senior, was weary of Spanish classes by the end of his sophomore year. He'd fulfilled his general education requirements and had declared Spanish as his major, but wasn't all that inspired to go further.
"I just felt like I couldn't learn any more in the classroom," he said. His discontent nearly led him to drop the subject entirely, but then he left to study in Chile his junior year. He spent six months at Universidad Austral in Valdivia and two months traveling.
He returned with a new respect for the language and a passion for the culture.
"I have a much, much more intimate relationship with the language now," he said. "A lot of the upper-division courses are more meaningful, and I can participate and express myself, have weighty conversations."
Like many students who leave the states to travel abroad, he also amassed new insight into the relationship between the U.S. and Latin America.
"As a country we are deeply involved in Central and South America, but there's a lot of cultural incompetency. We have a lot of ignorance about the people we share the Western Hemisphere with," he said, pointing to the ineffectual war on drugs as a policy failure that could benefit from a deeper understanding of Latin cultures.
Returning to Oregon with a revived interest in Latin America, Driver sought opportunities for speaking Spanish at home, and has spent the last two summers working on a blueberry farm outside of Roseburg, his hometown. There, he picks berries with immigrants from Mexico and Guatemala.
"It's tough," he said. "We work under the sun for long hours—but I get to hang out with really interesting people, speak Spanish and make a little money."
Demographers project that, within a decade, more than 25 percent of high school graduates in Oregon will be from Hispanic families. The UO is committed to designing curricula and programs to increasingly attract and serve these "heritage" students, and this has profound implications for Spanish-language instruction.
"We must now consider how to provide instruction in Spanish to not only English-speaking students, but to students who come with a variety of levels of Spanish skills as well as a complex relationship to their own cultural heritage," said García-Pabón.
Traditional pedagogy assumes students have had little or no exposure to Spanish language or culture or that university instruction is simply a continuation of high school lessons. In both cases, a long- established standardized curriculum guides students through their undergraduate courses.
For heritage language students—those who grew up in a Spanish language environment, but may have had little or no formal instruction in writing or reading the language—Spanish study at the UO can mean a chance to achieve college-level proficiency in the language of their parents and grandparents, as well as an opportunity to explore their ethnic history, culture and literature.
To accommodate this new type of student, as well as native English speakers who are ambitious in their pursuit of Spanish proficiency, the Department of Romance Languages has begun to offer courses where the focus is not so much on language learning as on the academic content of the course. For instance, classes in sociology, political science, anthropology and film—all taught in Spanish—have recently been offered as part of the summer curriculum.
The UO is also developing courses designed for those verbally adept in Spanish but without formal reading or writing training, as well as advanced classes that explore contemporary topics such as bilingual communities and U.S. Latino literature and culture.
"These new courses are open to any student interested in Spanish and issues of bilingualism and biculturalism," said García-Pabón.
It all points back to the wealth of options available to students who are drawn to Spanish in support of whatever their goals might be.
"There are so many directions to go with advanced Spanish," said Davis. Not just within the Spanish curriculum itself, but "there are so many rich connections with environmental studies, political science, international studies—and at the UO, that means social engagement."
Photo by Jesse Wilson