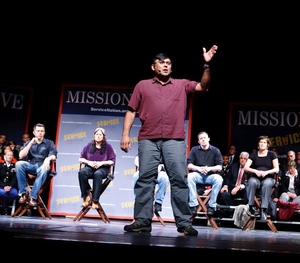 Telling: Eugene—a moving, honest, heart-wrenching play based on veterans' stories and performed by veterans—will now make its film debut, as a documentary. The documentary will explore the making of Telling and how it came together on the UO campus.
UO student Lemuel Charley, a member of the original Telling: Eugene cast, tells his story at a special performance in Washington, D.C.
Directed by UO theater professor John Schmor, Telling: Eugene was performed in February 2008 and featured veterans and their family members, including several UO student veterans. They took the stage to tell their personal stories about military service—predominantly in Iraq and Afghanistan—and the challenges of returning home.
The play was produced by The Telling Project (TTP), which works with local communities and organizations to bring veterans' stories to the stage. TTP was created by Jonathan Wei, who, while working as the UO Nontraditional Student Programs coordinator, recognized that many student vets wanted to talk about their experiences.
"What vets at the UO (and elsewhere) experience when they return from military service is, among other things, profound isolation," said Wei. "There's a need for veterans to connect in a personal way—with themselves, each other and their communities."
After that original performance in 2008, TTP leapt into the national spotlight with an invitation to perform in Washington D.C. before First Lady Michelle Obama and Second Lady Jill Biden, among other prominent political figures, on Veteran's Day 2009. Following the D.C. performance, TTP has been contacted by more than a dozen veterans' groups, individuals and other organizations interested in creating their own Telling plays.
The documentary, In The Telling, will recount the process of creating Telling: Eugene. It will include original footage from the veteran interviews on which the play was based, as well as rehearsal footage and a video of the play itself, plus interviews with Schmor, Wei and UO comparative literature doctoral candidate Max Rayneard, who coauthored the original play. The second part of the narrative will document how several members of the original cast have continued their transition from military to civilian life.
The documentary is set for release in early 2011. It will be partially funded and co-produced by the Oregon Humanities Center (OHC). Additional funding will come from private sources, including veterans' organizations and various foundations.
"The OHC has been a strong supporter of The Telling Project since its inception," said Julia Heydon, associate director of OHC. "Bearing witness to student veterans' stories is a deeply important way of supporting them and welcoming them back into the society they left behind when they went to war."
— Anne Conaway
Watch a video of the Washington D.C. performance of Telling.
Photo courtesy of Be The Change