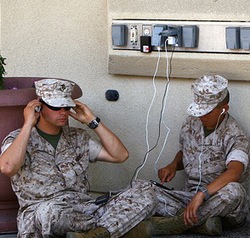 Visions of American troops in Iraq and Afghanistan, getting pumped up for combat by listening to heavy metal and "gangsta" rap, have become pervasive in the media. Yet "the troops" isn't a homogeneous group, always in preparation to Rage Against the Machine.
Their musical affinities are as diverse as the rest of the country's, says Lisa Gilman, associate professor of folklore and English.
Left: Marines recharge outside a Wendy's restaurant on Camp Pendleton
Gilman hopes to dispel flawed perceptions that this is the only type of music being played and to illuminate why aggressive genres are especially attractive to some.
Troops listen to a variety of music on their iPods, radios and stereos—while hanging out in their barracks, in Humvees on patrol, or as they work out together, to name just a few scenarios.
Gilman takes up music as her subject of inquiry because of the importance it plays in the daily lives of troops. Listening to music is one of the primary ways many troops cope with the psychological and physical extremes they face in war zones.
In fact, while conducting interviews with vets from coast to coast, including UO students, she found that music was one of the few subjects related to their combat experience that many felt comfortable discussing and, indeed, wanted to discuss.
Gilman observes that enlisted troops, due to being at the bottom of the hierarchy, have a relatively muted voice. They often have little say over how they conduct their lives during deployment or how they express themselves. They are required to dress the same. They eat what is prepared for them. They do what they are told.
"But listening to music is active, not passive," Gilman said. "It allows them to say, 'Here's who I am,' or to ask, 'Hey, what are you listening to?'"
In this way, music is a conduit for finding likeminded individuals and for bridging differences among troops.
And it's an outlet for dealing—or not having to deal—with the realities of their situation. Particularly while listening to music on iPods and other players designed for individual listening, troops can escape from the wars, even if it's only through part of a playlist. "Plugging in your earphones is a sign to others—'I want to be alone,'" Gilman said.
Gilman plans to conduct further interviews with vets and produce a documentary that, in part, will illuminate how troops also use and create music as a form of rebellion.
— Anne Conaway
Listen to Lisa Gilman's interviews with two Iraq War veterans about the music they listened to while deployed,
Flickr photo: Randy Robertson CC BY/2.0