Watch videos of visitors to the runner's roadside shrine.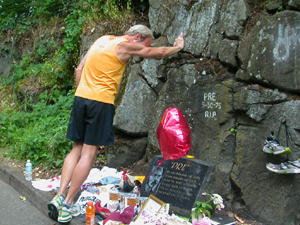 During last summer's Olympic Trials in Eugene, 3,000 people visited the rock that commemorates the location where track legend Steve Prefontaine died in a car accident in 1975.

Folklore professor Daniel Wojcik, who has been researching the legacy and lore of Prefontaine for years, decided to document this surge of visitors. Wojcik and a team of folklore students conducted interviews, took photos and captured more than ten hours of video of the pilgrimage.

Wojick hopes to create a feature-length documentary for public television.

Click to watch the initial rough cut of the documentary.

VIDEO.

Click the link below to watch a time-lapse video that shows the crowds that visited Pre's Rock during the 2008 Olympic Trials.

PreRockPilgrimage.mov

For more information, read the full story.